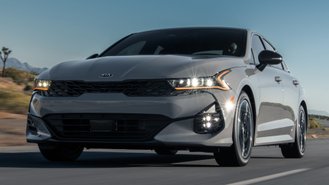 Kia's newest midsize car, the 2021 K5, will start at $24,455 and range up to nearly $36,000, a new order guide reveals. At the entry-level, that will make it just $100 more expensive than the outgoing Kia Optima ($24,355) and offer only a slight edge in price next to some of its main competitors in the segment.
With an MSRP of $24,455 after a destination fee of $965, the K5 LX will undercut the 2020 Hyundai Sonata SE ($24,575) by only $120 and offer a $520 advantage compared to a 2020 Honda Accord LX ($24,975). To put that into perspective, a 2020 Toyota Camry SE starts at $25,380, $925 more than the new K5.
Compared to the Optima, the K5 could come off as a relative bargain given that it's an all-new vehicle promising a new level of sportiness and looks inspired by the Stinger. Having said that, higher-performance configurations like the K5 GT with GT1 Package will approach nearly $36,000 with optional equipment.
In base form, the GT will start at $31,455 and will be the only way to get a new 2.5-liter turbo rated at 290 hp with 311 lb-ft of torque. Other styles (LX, LXS, GT-Line, and EX) will all come with a 1.6-liter turbo making 180 hp and 195 lb-ft. At that price, the GT will be $1,700 cheaper than an Optima SX Turbo ($33,155).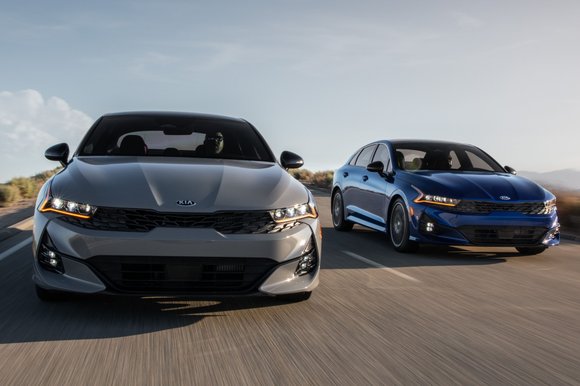 That said, stepping up to the GT1 Package adds $4,000, bringing the price to $35,455. Doing so adds a slew of extra tech like a more advanced driver assistance system with a navigation-based cruise control system, and features like 12-speaker Bose audio, ventilated front seats, LED headlights, memory seats, and more.
So will the GT be the K5 to get? In base form, it'll command a $2,500 premium over the EX ($27,990) but will be considerably more affordable than a Honda Accord 2.0T Sport ($32,315) and Toyota Camry TRD V6 ($32,125). Unfortunately, the new all-wheel-drive option will be limited to the LXS ($27,555) and GT-Line ($30,055)
However, this quirk in packaging isn't limited to just the K5. For reference, the Toyota Camry offers it starting with the 4-cylinder LE trim but doesn't offer it with the more powerful 301-hp V6. The Nissan Altima goes a similar route by offering all-wheel-drive with most trims except for the range-topping 248-hp 4-cylinder turbo.
When it arrives this summer, it appears the K5 will offer a competitively-priced option amidst a dwindling field of midsize cars. Having said that, our analysis finds that incentives on the outgoing Kia Optima remain extremely aggressive with up to $5,000 in savings, one of the largest discounts right now in the segment.
Correction: An earlier version of this article incorrectly stated that all-wheel-drive will be limited to the GT-Line. It will in fact be available on the LXS as well.
Update: We've also learned that the K5 will debut with incentives for buying & leasing. Read our full analysis for details.