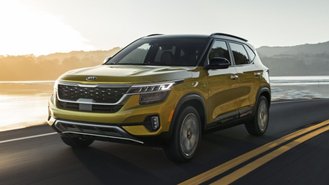 The 2021 Kia Seltos fills a gap in the South Korean automaker's lineup between the subcompact Soul and the compact Sportage. Kia looked to Hyundai to borrow the Kona's platform and powertrains for the Seltos. Despite sharing the Kona's engines, the Seltos is more efficient than Hyundai's subcompact offering and just as efficient as the smaller Soul.
Kia offers two different four-cylinder engines with the Seltos. The base engine is a 2.0-liter unit that produces 146 horsepower, while the available turbocharged 1.6-liter engine is rated to make 175 hp. The standard motor comes with a continuously variable automatic transmission, whereas the turbocharged engines gets a seven-speed dual-clutch automatic. If it's fuel economy you're after with the Seltos, the base powertrain is the one to get as it carries an EPA rating of 31 mpg combined. The breakdown is 29 mpg in the city and 34 mpg on the highway.
Those numbers make the Seltos just as efficient as the Soul, which comes with a similarly powerful 2.0-liter four-cylinder engine as standard. With the Seltos' larger size, it's surprising to see that the two vehicles share the same combined fuel economy rating. Compared to the larger Sportage, the Seltos is much more efficient, as the best the Sportage can manage is 26 mpg. The Sportage's 2.4-liter four-cylinder makes 35 more horsepower, though.
Comparing the Seltos with the Kona is a little trickier. With a rating of 31 mpg combined, the Seltos is more efficient than the Kona by 1 mpg. While Hyundai offers the Kona with the turbocharged 1.6-liter four-cylinder with front-wheel drive, Kia only offers its SUV with all-wheel drive. That means the Kona with the 1.6-liter engine can get up to 30 mpg combined, while the Seltos with the same engine is rated at 27 mpg combined. Comparing similarly equipped Kona and Seltos models with all-wheel drive and the turbocharged 1.6-liter four-cylinder engine reveal that both models carry 27 mpg combined ratings.
When the Seltos made its debut at the Los Angeles Auto Show, we were expecting the SUV to get the same fuel economy as the Kona, so seeing the extra 1 mpg isn't a surprise. What is surprising, is that the Seltos matches the Soul's fuel economy rating.
Despite its good fuel economy rating, the Seltos isn't the most fuel-efficient subcompact SUV. That honor still belongs to the Nissan Kicks, which is rated at up to 33 mpg combined. The Seltos, though, is the second most efficient SUV in the class. The Honda HR-V, Hyundai Kona, Hyundai Venue, and Subaru Crosstrek all have 30 mpg combined ratings. The Toyota C-HR (29 mpg combined), Ford EcoSport (28 mpg combined), Chevrolet Trax (28 mpg combined), Nissan Rogue Sport (28 mpg combined), and Mazda CX-30 (28 mpg combined) all fall behind.