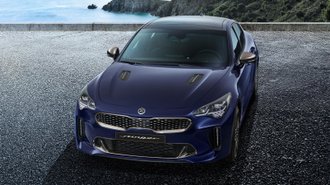 A slightly different exterior design won't be the only new thing the 2021 Kia Stinger will have when it officially goes on sale. Kia recently announced that the sporty sedan will be available with a new turbocharged 2.5-liter four-cylinder engine. While the upcoming Stinger's lineup hasn't been ironed out yet, it looks like the new engine will slot in between last year's options to give consumers more choices.
The 2.5-liter turbo engine is rated at 300 horsepower and 311 pound-feet of torque. The Stinger's base turbocharged 2.0-liter four-cylinder engine is still rated at 255 hp, while the range-topping turbocharged 3.3-liter V6 now makes 368 hp. The V6 engine benefits from a new exhaust system, which adds an additional 3 hp. Additionally, Kia states the V6 engine sounds better than before in Sport mode. Kia hasn't confirmed drivetrains yet, but we expect all three engines to be available with rear- and all-wheel drive. Regardless of engine, all three come with an eight-speed automatic transmission.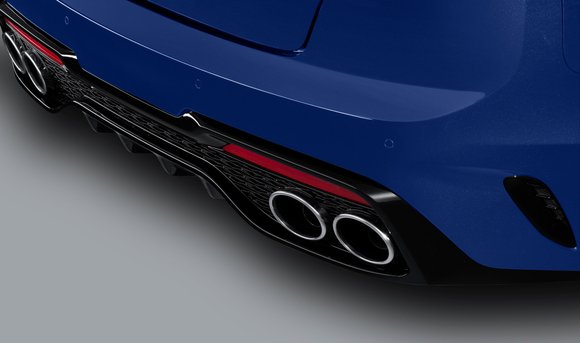 Without any word on pricing, it's difficult to say whether the new engine will be a strong value option, but it certainly looks like it could be. We're sure some consumers thought the base engine wasn't powerful enough, but found the twin-turbo V6 to be too much for daily use and a pricey $6,410 upgrade. If pricing for the turbocharged 2.5-liter engine manages to split the other two, we're sure it's going to be the most popular choice.
We've already seen a lot of the 2021 Stinger's other updates. The sedan's getting updated headlights, taillights, interior trim pieces, as well as a larger optional 10.25-inch infotainment system. Even the base infotainment screen has grown from 7 inches to 8 inches. New tech features have been added to the Stinger, too, like the ability to pre-active the heated and ventilated seats before going on a drive. Unfortunately, Kia claims that some tech is only for certain markets, so that might not be available in the U.S.
New safety features that will be available on the 2021 Stinger include rear occupant alert, highway driving assist, lane following assist, safe exit warning, which alerts occupants about to open the door to exit the vehicle if it senses an approaching vehicle, and Kia's blind spot view monitor that projects a view of the blind spots in the instrument cluster when the driver goes to change lanes.
The Stinger was already an excellent value option, blurring the lines between luxury and sporty options wonderfully. It seems like the 2021 Stinger won't rewrite the entire book, but will improve on a few key areas to make the sedan even better. South Korea will get the new Stinger first before the vehicle becomes available globally before the end of this year.