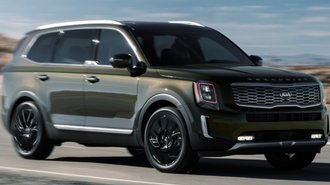 Kia's hottest SUV is getting a new special edition. According to an early order guide, the 2021 Telluride will offer a new Nightfall Edition Package featuring a blacked-out design in a first for the model. Although we don't have official photos just yet, we do know what buyers will get in terms of features and what it's set to cost.
The Nightfall Edition Package will cost $1,295 and be available on all-wheel-drive versions of the Telluride EX ($40,560 with destination) and SX ($45,260). The former will also require the EX Premium Package ($1,695). Based on our analysis, buyers should expect to pay $43,550 for the EX version and $46,555 for the SX. Interestingly, the Nightfall Edition will also get buyers access to a new paint color called Wolf Gray for an additional $495 that will be paired with a black interior.
Noteworthy features will include special Kia emblems exclusive to the Nightfall Edition as well as a unique black grille and exclusive 20-inch black wheels with dark chrome lug nuts. Other touches in line with the theme include black headlamp bezels and gloss black trim on the roof rails, skid plates, lower door trim, emblems, and more. For reference, most Tellurides currently feature either painted silver trim at the entry-level or satin chrome on configurations higher up the range.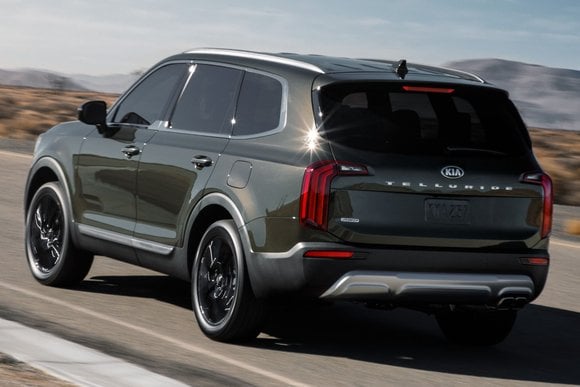 Mechanically, all Tellurides will continue to feature the same 3.8-liter V6 as before rated at 291 hp and 262 lb-ft of torque. "Black editions" aren't a new concept, but some consumers may like having the option in the Telluride. At the moment, we aren't seeing signs that buyers will see a similar option in the Hyundai Palisade.
Other brands offer similar choices to varying degrees. For example, the Honda Pilot features a Black Edition at the top of its range with a price tag over $50,000. In a more extreme case, Toyota offers a Nightshade Edition on a wide range of vehicles and is planning to expand it to at least 10 models by the end of the year.
Unfortunately, strong demand and production issues related to COVID-19 have made the Telluride extremely hard to find at dealers across the country. Although inventory issues aren't limited to Kia, some shoppers may find it smarter to wait for the latest version to arrive rather than to rush to buy a Telluride now.
Learn About The Current Telluride On Sale Now »
Pictured: 2020 Telluride