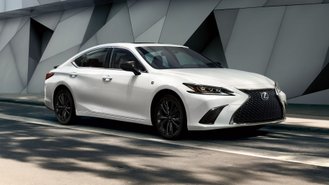 It's time for Lexus' midsize luxury sedan, the ES, to get a mid-cycle refresh, which is exactly what happens for the 2021 model year. For the new model year, Lexus is introducing an all-wheel-drive platform to the sedan with a 2.5-liter four-cylinder engine and a limited Black Line Special Edition models.
Limited to just 1,500 units, the Black Line Special Edition ES 350 will be based on the F Sport trim, and, contrary to the name, will be available in more colors than just black. Ultrasonic Blue Mica, Obsidian, and Ultra White are the three colors the Black Line Special Editions will be offered in. On the inside, the limited-edition sedan will come with a two-tone black and white interior and gray stitching. Of course, falling in line with other blacked-out packages or vehicles, the Black Line will come with black exterior mirrors, darkened F Sport wheel and lug nuts, as well as a black rear spoiler.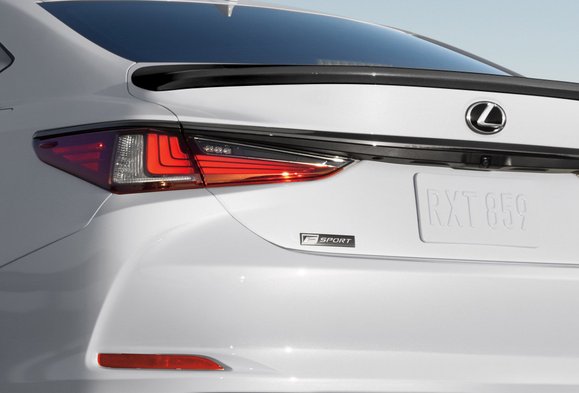 To make the Black Line feel even more luxurious, Lexus will be mailing consumers that purchase one of the limited-edition vehicles a two-piece set of travel cases by Zero Halliburton. The cases will have a "Zero Halliburton for Lexus" chrome logo badge that will be laser etched on them, too, as well as a Lexus embossed leather logo badge, a Lexus grille motif, and, what the automaker is calling, a "sumptuous interior lining." The luggage set includes a 22-inch carry-on and a 26-travel case.
CNET's Roadshow claims that pricing for the 2021 Lexus ES 350 will start at $40,925 including destination. The limited-edition Black Line will cost $47,575, which is an extra $850 over the regular ES F Sport. While the Black Line doesn't add a whole lot for the money, it's not a big difference for a limited-edition model that comes with one-of-a-kind luggage.
Lexus' Black Line isn't a new thing. We saw the Japanese luxury brand introduce the Black Line for the RC F models back in 2018. Since then, the NX, NX Hybrid, IS, and GS have received limited-edition Black Line trims.