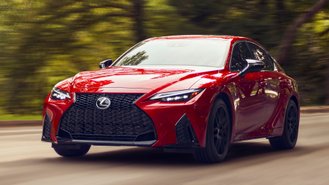 While the 2021 Lexus IS features a new design, the platform, powertrains, and interior go unchanged. That might explain why pricing for the IS sedan has gone up by a small margin and, in some cases, actually gone down by quite a lot. The 2021 model is now priced at $40,025 including destination, which is a $400 increase from last year. That's not a lot of money for what is a much more striking vehicle.
That starting price is for the rear-wheel-drive IS 300. If you want all-wheel drive, the IS 300 AWD costs $42,025, which is actually $10 cheaper than last year. Both of the IS 300 trims now come with an 8-inch touchscreen, along with Android Auto and Apple CarPlay as standard. Additionally, blind spot monitoring is standard, while the automatic emergency braking and pedestrian detection systems have been upgraded. The adaptive cruise control system can now adjust speeds using traffic sign recognition, too.
The sporty IS 350 F-Sport with RWD costs $43,925. From last year, that's a massive $2,475 decrease. The AWD IS 350 F-Sport goes down to $45,925 for 2021, which is a decrease of $1,810. Unlike before, the IS 350 model now comes with last year's F-Sport package as standard. The 2021 F-Sport models now feature two different 19-inch wheels, an available Circuit Red interior, and an updated exhaust system.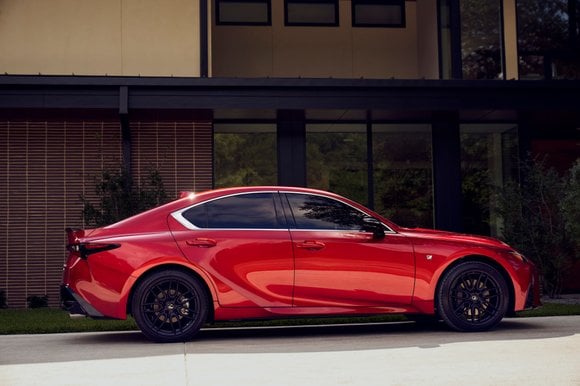 Compared to the competition, the 2021 IS is more affordable than its German rivals. The Mercedes-Benz C-Class, BMW 3-Series, and Audi A4 are all more expensive. Out of those three, the C-Class is the most expensive with a starting price tag of $42,395 and the A4 is the most affordable with a price tag of $40,015. The Genesis G70 is one of the few compact sedans that costs less than the IS with a starting price of $38,475. That makes the new IS a good deal, just like last year.
Beyond some new features, the 2021 IS' body receives some tweaks to make it more rigid, taller, and wider. The sedan's steering has been updated, while the suspension tuning has been upgraded, as well. The updates that have been made for the 2021 model should be seen as a major facelift, though they should keep the IS competitive for the next few years.
Power for the IS 300 comes from a turbocharged 2.0-liter four-cylinder that makes 241 horsepower, while the IS 350 models are equipped with a 3.5-liter V6 that's rated at 260 hp. IS 300 models come with an eight-speed automatic transmission with the IS 350 being equipped with a six-speed automatic. The powertrains are the same units from last year.
The 2021 Lexus IS will officially arrive at dealerships this month.