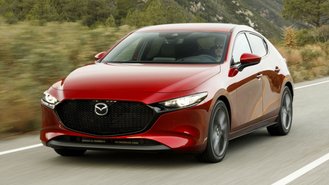 Enthusiasts and consumers have been begging Mazda to bring the performance-oriented MazdaSpeed3 back after the last model bowed out in 2013. In 2016, CEO of North American Operations Masahiro Moro quickly quelled any hopes and dreams of possibly seeing the return of a MazdaSpeed3 model, claiming previous iterations of MazdaSpeed vehicles were "childish." While it doesn't sound like Mazda is introducing a modern version of the MazdaSpeed3, a turbocharged engine could be in the cards for the Mazda3.
Jalopnik, citing an unnamed source that provided the outlet with information from a Mazda dealership's extranet system, claims that a turbocharged engine will be offered for the 2021 Mazda3. According to screenshots the outlet received, the turbo motor will only be offered on a single turbo-specific trim for both the sedan and hatchback body styles. It's similar to what Mazda does with the Mazda6, as the turbocharged engine is only available with the Grand Touring, Grand Touring Reserve, and Signature trims. With the Mazda3, we assume that "Turbo" will be somewhere in the name to denote the punchier engine. Based on the information, it looks like all-wheel drive and an automatic transmission will be standard with the powertrain. Unfortunately, it doesn't sound like a manual transmission will be available with the turbo engine.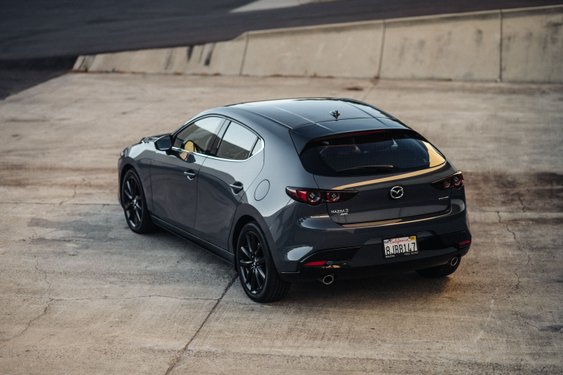 Furthermore, the information also includes "MAZDA3 HB PP Turbo." Jalopnik deciphered the coded message to mean hatchback (HB) and possibly Preferred Package, Premium Package, or Performance Package (PP). With Mazda offering Preferred and Premium Packages on the Mazda3, we think "PP" refers to one of those two options, denoting what kind of equipment the new trim and engine will be offered with.
Mazda only offers one turbocharged engine throughout the lineup: a turbocharged 2.5-liter four-cylinder. The engine is offered on the Mazda6, Mazda CX-5, and Mazda CX-9. In all three vehicles, it produces 250 horsepower and is a stout performer. With only one turbocharged engine to utilize, our best guess is that Mazda will find a way to shoehorn it into the Mazda3. If power remains at 250 hp, it would certainly give the Mazda3 performance figures matching MazdaSpeed models from yesteryear.
In our review of the Mazda3, we found the current 186-hp 2.5-liter four-cylinder to provide a decent amount of power. But other competitors like the Honda Civic, Volkswagen Golf, and Hyundai Veloster all offer more powerful available engines that best the Mazda3's sole motor. More power would also help the Mazda3's move to being a more premium option in the class.
While a Mazda3 with a turbocharger may not compete with hot hatchbacks and resurrect the MazdaSpeed name, it's still a welcomed update for the wonderful little compact. Hopefully, it's true.
Learn more about the current Mazda Mazda3 on sale now »
Pictured: 2020 Mazda3 Hatchback