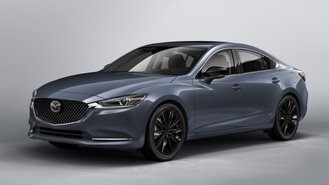 In the hotly contested segment of midsize sedans, the Mazda6 stands out as one of the better choices. One of the main issues with the vehicle is that Apple CarPlay and Android Auto aren't standard on the base trim. While that may seem like a small inconvenience, nearly every other competitor offers smartphone compatibility as standard. There's good news for consumers that are on the fence, as the 2021 Mazda6 now comes with Apple CarPlay and Android Auto as standard. Additionally, wireless CarPlay is available for the first time for the brand. The sedan also gets a new Carbon Edition trim, more torque for the turbocharged engine, and a slight increase in pricing.
For last year's model, smartphone compatibility was available on Touring trims and above, so it wasn't really standard. That changes for this year for just $225 more, as the 2021 Mazda6 will start at $25,270 including destination. Pricing for the majority of the 2021 lineup sees an increase of just $225, while the range-topping Signature, which starts at $36,695, goes up by $350, which is still reasonable.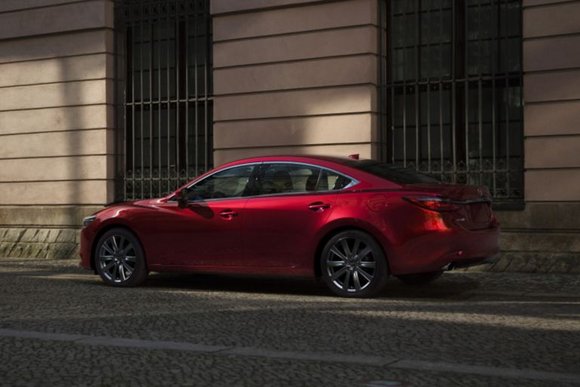 The Grand Touring trim is still the most affordable way to get the turbocharged 2.5-liter four-cylinder engine, but it's now a little peppier than before. When running on 93 octane, the engine produces 250 horsepower and 320 pound-feet of torque. That's a modest increase of 10 lb-ft of torque for the turbocharged motor. On regular 87 octane fuel, the engine is rated at 227 hp and 310 lb-ft of torque. Mazda didn't provide any information on how it was able to extract the extra power from the engine. Beyond the more powerful turbocharged engine, the Grand Touring trim is the first vehicle in the Mazda family to come with wireless Apple CarPlay.
New to the Mazda6 family is the addition of the Carbon Edition trim. Both the CX-5 and CX-9 are being offered with a Carbon Edition model for the 2021 model year, too. Unlike with those trims, though, the Mazda6 Carbon Edition sits toward the higher end of the lineup and will cost $33,745, meaning it will slot between the Grand Touring Reserve and the Signature. The trim will come with the brand's special Polymetal Gray exterior paint job, black exterior trim pieces, 19-inch black wheels, red leather upholstery, black interior trim pieces, and red contrast stitching.
The 2021 Mazda6 will arrive at dealerships this October. With standard smartphone compatibility, extra power from the turbocharged engine, and the new Carbon Edition trim, the Mazda6 cements its place in the segment as one of the better options. Now, we're just waiting to see if Mazda brings its updated infotainment system that includes a 10.25-inch center display to the sedan down the road.