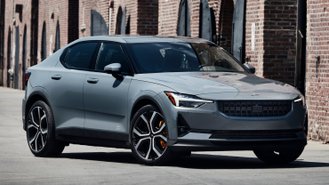 Polestar, Volvo and Geely's electrified sub-brand, is looking to go mainstream with the all-electric 2021 Polestar 2. A Tesla Model 3 competitor, the Polestar 2 was originally estimated to get up to 250 miles on a single charge. According to fuel economy estimates from the EPA, that won't be the case, as the Polestar 2 has an official range of 233 miles.
That figure is disappointing for two main reasons. One, it's lower than what Polestar previously estimated. Two, it's lower than the Tesla Model 3 Standard Range Plus' range of 250 miles. With only one powertrain currently available with the Polestar 2, it's also far lower than the Model 3 Long Range trim that is rated at 322 miles.
In the growing electric-vehicle scene, the Polestar 2 falls behind when it comes to overall range, though there aren't many electric sedans on the market. The Model S (348 miles), Porsche Taycan (203 miles), Nissan Leaf Plus (226 miles), Mini Cooper SE (110 miles), Chevrolet Bolt EV (259 miles), Hyundai Kona EV (258 miles), Kia Niro EV (239 miles), Jaguar I-Pace (234 miles), and Audi e-tron (204 miles) are all Polestar 2 competitors. Interestingly, the Volvo XC40 Recharge has just 208 miles of range, despite sharing the same platform as the Polestar 2.
Where the Polestar 2 has the advantage over a lot of the other electric vehicles is with its standard all-wheel-drive system. Additionally, the electric car produces 408 horsepower, which is more than the majority of other options. Polestar also offers an available performance package on the EV that includes Brembo brakes, adjustable Ohlins dampers, high-performance Continental tires, and 20-inch alloy wheels, highlighting the Polestar 2's performance. Then, there's the vehicle's upscale design, high-end interior, and luxurious design. So, at the end of the day, some consumers may not mind the relatively small range.