Porsche is shaking things up for the 2021 Panamera lineup. While the naming structure is just as confusing as ever, the main thing to know is that there are two new trims, which include a new plug-in hybrid model and a more powerful trim that should give supercars something to worry about.
At the top of the range sits a new Turbo S trim that replaces last year's Turbo trim. We told you, it's a little confusing. Just like before, the Turbo S will be offered in sedan, executive, and Sport Turismo variants. More confusingly, last year's Turbo and the new Turbo S trims share the same twin-turbocharged 4.0-liter V8 engine. Power, though, has gone up drastically. Last year, the Turbo trim was rated at 550 horsepower, while the new Turbo S produces 620 horsepower and 604 pound-feet of torque. Porsche claims the Turbo S trim can get to 60 mph in just 2.9 seconds and onto a top speed of 196 mph.
For consumers that want performance without having to worry about filling up on a weekly basis, there's a new plug-in hybrid 4S E-Hybrid trim. The 4S E-Hybrid trim slots in between last year's 4 E-Hybrid and Turbo S E-Hybrid trims. The vehicle comes with a twin-turbocharged V6 engine that's paired with an electric motor for a combined output of 552 hp and 553 lb-ft of torque. The 4S E-Hybrid, along with the other hybrid Panamera models, comes with a 17.9 kWh battery pack – previously, the hybrid models came with a 14.1 kWh battery pack. Porsche didn't say anything about range, but claims the 4S E-Hybrid will have similar performance to last year's Turbo trim. Last year's Panamera 4 E-Hybrid could travel 14 miles on electricity and was rated at 51 MPGe combined.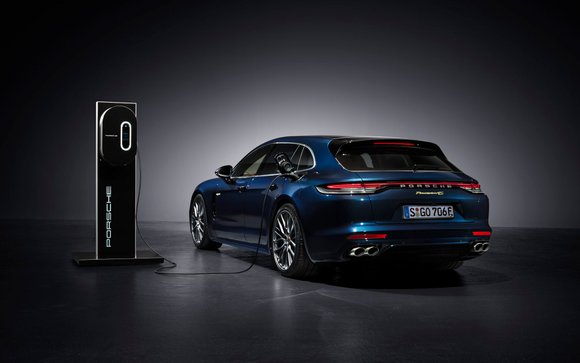 While Porsche didn't provide any information on why it introduced a new plug-in hybrid trim for the Panamera lineup, it follows a trend for more electrified vehicles. It's also an overall goal for half of all new Porsches on sale to be electrified by 2025. So, we can expect more hybrid, plug-in hybrids, and pure electric vehicles from Porsche soon.
Engine swaps occur further down the lineup. The standard Panamera now comes with a twin-turbocharged 2.9-liter V6 from last year's 4S trim instead of a turbocharged 3.0-liter V6. Last year's base Panamera was rated at 330 hp, while the 2021 model produces 325 hp. The Panamera GTS's twin-turbocharged V8 now puts out 473 hp, up from 453 hp.
Beyond the new trims and some updated engines, every Panamera now comes with Porsche Active Suspension Management that has an updated calibration for the adaptive dampers for improved ride quality. The new Turbo S gets rear-wheel steering, active anti-roll bars, and ceramic brakes, all of which are available on lower trim levels.
When it comes to the way the 2021 Panamera looks, the luxury sedan gets last year's SportDesign front end as standard. An updated SportDesign package will continue to be optional. New 21- and 20-inch wheels are offered and can be wrapped in ultra-high performance summer tires.
On the inside, the 2021 model comes with a multi-function Sport steering wheel across the entire lineup. The Turbo S trim comes with a new GT Sport steering wheel that features leather-wrapped shift paddles. Tech wise, lane keeping assist and traffic sign recognition are now standard on every Panamera. As usual, Porsche will continue to offer a dizzying number of optional features.
The 2021 Porsche Panamera will arrive at dealerships next spring. Pricing hasn't been announced yet, but the changes should see the Panamera go up slightly in pricing. We expect the base Panamera to start at around $90,000 with the Turbo S carrying a price tag of roughly $155,000.