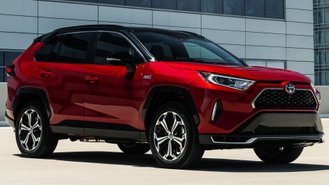 When Toyota introduced the 2021 RAV4 Prime, the plug-in hybrid SUV appeared to combine all of the best attributes of the popular compact SUV. It has a versatile SUV body, an approximate all-electric range of 42 miles, an estimated rating of 94 MPGe, and 302 horsepower. On paper, this is the ultimate RAV4 that consumers would run to dealerships to purchase. Unfortunately, it doesn't sound like consumers will find a lot of RAV4 Primes at dealerships, because Toyota is only bringing a limited number of units to the U.S.
According to Electrek, only 5,000 units of the RAV4 Prime will be available for purchase in the United States. As the outlet reports, a short supply of necessary items for the SUV's newly developed lithium-ion battery is the prime reason for the tiny allocation.
"Japan suspended orders on Monday, June 29," a Toyota spokesperson told the outlet. "They received favorable reviews from many customers and received orders which largely surpassed the production capability of a newly developed lithium-ion battery."
While only 5,000 units of the RAV4 Prime will be available for the 2021 model year because of constraints with its supply chains, the automaker is hoping to have 20,000 units available for purchase for the second model year.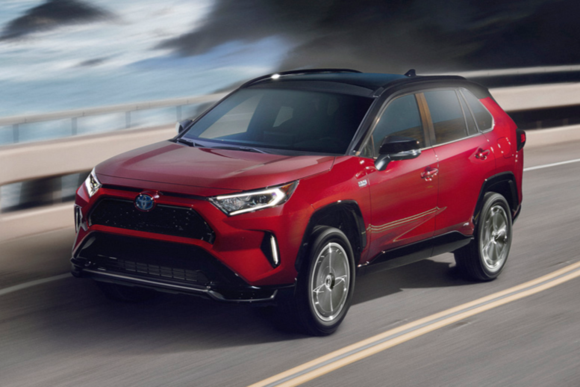 "Due to unforeseen supply chain constraints, we have revised our production plan downward for calendar year 2020," stated the spokesperson. "We expect to reach previously planned production levels by early 2021. We anticipate the first model-year would be about 5,000 – and year 2 forward would be about 20,000."
In addition to severely limiting the number of RAV4 Prime models that American consumers will be able to purchase, Toyota is putting another restriction into place. TorqueNews, citing unnamed sources at Toyota, claims that RAV4 Prime models will initially only be distributed to states with ZEV standards in place. Only 12 states qualify as ZEV ones, including California, Connecticut, Colorado, Oregon, Maryland, Maine, Massachusetts, New York, New Jersey, Vermont, Rhode Island, and Washington. The other 38 states will be shut out from receiving the RAV4 Prime, at least in 2020.
For those not in the know, ZEV stands for zero-emissions vehicle. ZEV states have specific regulations in place that require automakers to sell a certain number of electric vehicles compared to non-EVs. In these states, each automaker receives ZEV credits based on the electric vehicle that is sold that they have to maintain throughout the year.
For potential buyers, these two decisions could greatly affect whether you'll be able to find a RAV4 Prime in your area. Even if you do live in one of the 12 ZEV states, getting your hands on one of the 5,000 units will be difficult on its own. It's a shame, because the RAV4 Prime looked it would offer more performance and be a better value option, for some, than the hybrid variant.
Pricing for the RAV4 Prime starts at $39,220 for the SE trim and $42,545 for the XSE. Comparing the RAV4 Prime XSE to the RAV4 Hybrid XSE reveals a price difference of $7,125. With the full federal tax credit of $7,500 and any available local incentives, chances are that the RAV4 Prime could wind up being cheaper for some consumers, depending on where they live.
Unfortunately, it seems as if Toyota were unprepared for the popularity of the RAV4 Prime, because not having enough units for consumers to purchase seems like a massive misstep. Hopefully, Toyota finds a way to keep its promise to boost RAV4 Prime production up to 20,000 units for the second model year, because it will be crucial for the plug-in hybrid SUV's popularity.