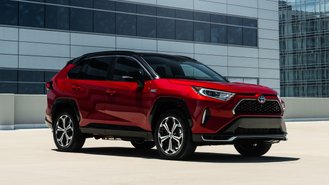 Before the end of last year, Toyota announced the 2021 RAV4 Prime – a plug-in hybrid version of its best-selling compact SUV. With 302 horsepower, an estimated range of 94 MPGe, and an approximate all-electric range of 42 miles, the RAV4 Prime certainly has the specifications to be the quickest and most-efficient RAV4 ever. There's more good news for consumers, as Toyota recently announced pricing for the RAV4 Prime and it's relatively affordable.
Only two trims will be available for the RAV4 Prime: SE and XSE. Pricing for the SE will start at $39,220 (prices include destination) and $42,545 for the XSE. Compared to a RAV4 Hybrid, the plug-in hybrid powertrain is an extra $9,750. But that's for a base RAV4 Hybrid that costs $29,470. Comparing a RAV4 Hybrid XSE to the RAV4 Prime XSE reveals a price difference of $7,125. While that's still a large difference, things get a little complicated when you take state and local plug-in incentives into mind.
The government allows buyers of PHEVs that can travel a certain number of miles on electricity alone to take full advantage of the $7,500 federal tax credit. With that in mind, comparing the RAV4 Hybrid XSE to the RAV4 Prime XSE reveals that the PHEV model is actually $375 more affordable. The RAV4 Prime SE, with the full federal tax credit, is $31,720, a more reasonable $2,250 extra over the RAV4 Hybrid. It's important to keep in mind that states also offer incentives for PHEVs, so buyers could get that down even more. In California, for instance, qualified shoppers can get up to an additional $2,500 toward the purchase of a PHEV. Depending on where you live, the RAV4 Prime could be a much better deal than the RAV4 Hybrid.
Compared to other plug-in hybrid SUVs, the RAV4 Prime is one of the more expensive options. The Mitsubishi Outlander PHEV ($37,490), Kia Niro PHEV ($30,610), Ford Escape PHEV ($34,285), and Subaru Crosstrek Hybrid ($36,155) are all more affordable than the new RAV4 Prime.
If you do manage to get the full federal tax credit and a decent amount of local incentives, the RAV4 Prime is an interesting proposition over the RAV4 Hybrid. When Toyota unveiled the vehicle, it really pushed the performance aspect of the SUV. Toyota boldly claims a zero-to-60 mph time of 5.7 seconds, claiming that the RAV4 Prime is the quickest four-door model in the automaker's lineup.
There are a few more important figures we're waiting to see from the RAV4 Prime. The EPA still hasn't released its official fuel economy and range figures yet and those are quite important for PHEVs. Even without that information, the RAV4 Prime looks like it's a competitive vehicle in a relatively small segment. Sales of the RAV4 Prime are expected to begin later this summer.