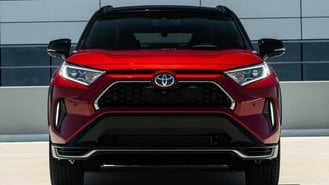 A limited production run for the highly-anticipated 2021 Toyota RAV4 Prime has apparently resulted in extreme markups in some parts of the country. Although the Prime may present a compelling value on paper with the help of plug-in rebates, anecdotal reports indicate some dealers are marking-up prices by up to $10,000.
For example, a recent post on Reddit's "Askcarsales" subreddit claims dealers are asking for anywhere from $2,000 to as much as $10,300 above MSRP. The post echoes a thread on the forum Rav4World referencing a $5,000 markup plus a $1,000 deposit. In some cases, waiting lists are said to be up to 30 people deep.
Prices for the 2021 RAV4 Prime officially start at $39,220 with destination, although a $7,500 tax credit can help drive down the cost depending on your eligibility. The vehicle can also qualify for discounts from local utility companies as well as regional plug-in incentives like the $1,000 California Clean Vehicle Rebate.
Under ideal circumstances, we recently suggested that the Prime could be a better deal than the RAV4 Hybrid. However, that may not end up being the case if plug-in incentives are effectively offset by markups. Sadly, this may be unavoidable since the reality is that dealers set their prices based on real-world demand.
Unsurprisingly, the Prime has no factory discounts to speak of and can be quite expensive even at MSRP. Toyota's online payment estimator currently lists the Prime at $775/month based on a 5-year loan at 4.9%. An estimated lease of $577 for 36 months with $3,227 at signing comes out to $667/month before taxes & fees.
So is the RAV4 Prime really worth a $10,000 markup? That will depend on how much you really want to buy one. The vehicle was recently rated at 94 MPGe and will offer 42 miles of electric range. Given the vehicle's limited availability, we think the chances of getting a deal will be close to impossible for at least the time being.
Plug-in incentives and other green car deals are generally meant to help make low and zero-emission vehicles more accessible. However, without an advantage in price, RAV4 Prime shoppers may find fully-electric vehicles like the Tesla Model 3 (which starts at $39,190) easier to find and a more compelling alternative.