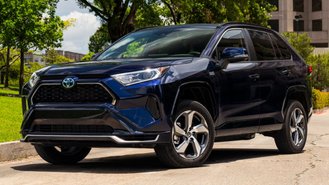 The Insurance Institute for Highway Safety (IIHS) has completed its crash-tests on the 2021 Toyota RAV4 Prime and Venza, and the two electrified SUVs did well enough to earn Top Safety Pick awards. For both all-new models, consumers will have to choose specific trim levels to get certain headlights if they want the safest versions.
Both the RAV4 Prime and the Venza earn ratings of "Good" in six crash tests and have "Superior" rated front crash prevention systems as standard. Where the two SUVs differ is with their headlights. The Venza has two different headlights. The base LED reflector lights on the LE trim were found to be "Marginal," while the LED projector units on the XLE and Limited trims were found to be "Acceptable." The last time the Venza was sold – back in 2015 – the IIHS didn't complete all of its testing on the SUV, though it earned "Good" rating in four crash tests.
For the RAV4 Prime, Toyota only offers the plug-in hybrid SUV in two trims: SE and XSE. Both come with "Poor" rated LED projector headlights as standard. The XSE is offered with LED projector headlights as part of the $5,760 XSE Premium Package with options bundle. Those headlights earned the highest rating of "Good." With a Top Safety Pick Award, the RAV4 Prime matches the regular RAV4 when it comes to safety.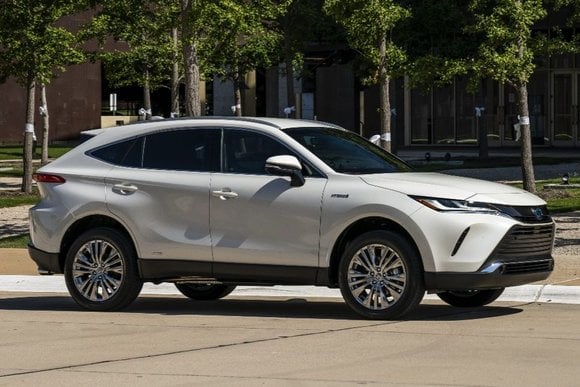 With the latest award winners, Toyota has a total of seven vehicles to earn one of the IIHS' awards. Only one, the Toyota Camry, was named a Top Safety Pick+. That matches Honda and Mazda, and is better than Nissan, Kia, Lexus, Volkswagen, Ford, and Chevrolet. Hyundai and Subaru have more award winners than Toyota with 10 vehicles each.
Both electrified SUVs come with Toyota Safety Sense 2.0, which is a comprehensive suite of advanced safety features. Unlike a lot of other automakers, Toyota's safety suite includes road sign recognition, adaptive cruise control, and pedestrian detection as standard equipment. Like other automakers, the majority of Toyota's vehicles come with headlights that fail to earn an "Acceptable" or "Good" rating, which is what holds its vehicles back from earning the IIHS' highest Top Safety Pick+ award.