Minivans are out; SUVs are in. That's why automakers are coming out with what feels like new SUVs every month, while new minivans are a rarity. When Toyota unveiled the fully-updated 2021 Sienna earlier this May, we were surprised. For the new model year, the Sienna receives an aggressive design, more tech features, and a hybrid powertrain as standard. While the Sienna costs more than last year's model, in an apples-to-apples comparison, pricing for the minivan actually stays the same.
Pricing for the 2021 Sienna starts at $35,635 (including destination). Eagle-eyed readers may notice that's more than the 2020 Sienna, which is true. But the price change comes from the deletion of last year's L trim. That minivan started at $32,815, meaning there's a $2,820 difference between the starting two trims for the model years.
For 2021, the Sienna starts with the LE trim. Last year, the LE trim cost $35,635, exactly the same price as the 2021 LE trim. So, while confusing, pricing for the 2021 Sienna hasn't changed.
Last year, the LE trim added more convenience features in the way of eight-way power front seats, a bench seat for the second row, an auto-dimming rearview mirror, additional cupholders, and a storage compartment in the second row over the base L trim. Additionally, power-sliding doors, black roof rails, and heated exterior mirrors were also standard. With the LE Preferred Package, consumers could get blind spot monitoring and rear cross traffic alert.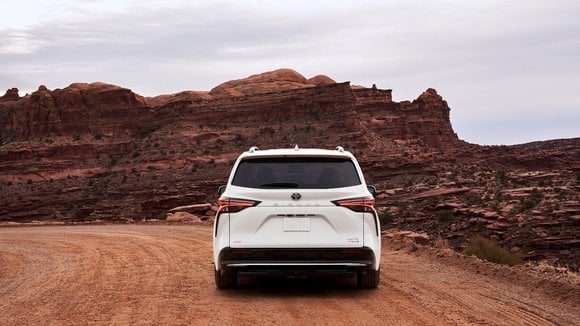 Compared to last year, the 2021 Sienna LE comes with so much more. A 9-inch touchscreen, Apple CarPlay, Android Auto, Amazon Alexa, seven USB ports, Wi-Fi hot spot, dual power sliding doors, and three-zone automatic climate control are all standard. Also, Toyota Safety Sense 2.0 is now standard, bringing a variety of advanced safety features. The fact that Toyota isn't asking more for the 2021 LE is surprising, as it comes with more features that should appeal to buyers.
There's also the new hybrid powertrain, which is the only way to get the Sienna. Power for the minivan comes from a 2.5-liter four-cylinder engine that's paired with two electric motors. Combined output is rated at 243 horsepower, which is down 53 hp from last year's V6 engine. On the flip side, fuel economy has gone way up. The EPA hasn't released official fuel economy figures for the 2021 Sienna on its site yet, but Toyota claims the minivan should be able to get an EPA-estimated 36 mpg combined. A 2020 Sienna with the 3.5-liter V6 was rated to get up to 21 mpg combined.
For any consumers out there that are interested in getting something that's not a three-row SUV, the 2021 Sienna certainly looks like a compelling option. While it does cost more than last year, the 2021 Sienna comes with so many more features and a much more fuel-efficient engine that it feels like a much stronger value. Hopefully, some customers choose to purchase the Sienna over comparable SUVs, because Toyota really did wonders with the minivan.