For 2021, the Toyota Supra is getting a few new goodies. One of them is a new turbocharged 2.0-liter four-cylinder engine, while the other is an updated version of the turbocharged 3.0-liter inline-six that now produces more power. As with many other things in life, as one thing goes up, another comes down. Such is the case with the Supra's performance and fuel economy.
The Supra's updated six-cylinder engine is now rated at 382 horsepower, matching the one found in the BMW Z4 M40i. That's up 47 hp from the 2020 model's 335-hp inline-six engine. Understandably, fuel economy has gone down. The 2020 Supra was rated to get up to 24 mpg city, 31 mpg highway, and 26 mpg combined. With the more powerful inline-six engine, the 2021 Supra gets an EPA rating of 22 mpg city, 30 mpg highway, and 25 mpg combined. From our point of view, losing 1 mpg combined isn't a large price to pay for an extra 47 hp. Still, the Z4 M40i is more fuel efficient with a combined rating of 26 mpg.
The bump in power isn't the only thing the Supra received for the 2021 model year. Toyota also added lightweight aluminum braces, updated adaptive dampers, revised damper tuning, an improved differential, and upgraded stability control. The changes, along with the bump in power, should make the Supra an even better sports car.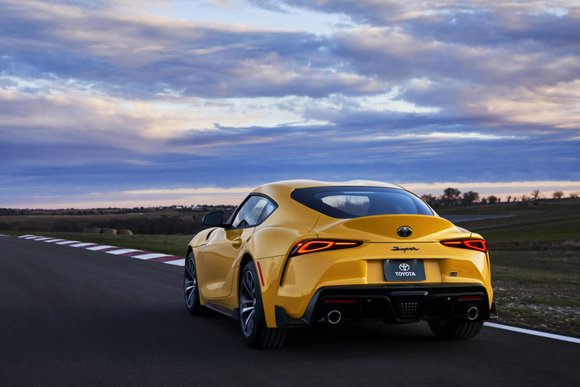 Finding a rival to the Supra proves to be tricky, because of the vehicle's relatively affordable price tag and competitive performance. Regardless of what you compare the Supra to, chances are that it's one of the more efficient cars in the class. The Jaguar F-Type Coupe with the four-cylinder engine is rated at 26 mpg combined, the Audi TTS is rated at 25 mpg combined, the base Porsche 911 Carrera gets 25 mpg combined, the standard Porsche Cayman is rated at 25 mpg combined, the BMW M2 CS gets 20 mpg combined, and the new Chevrolet C8 Corvette is rated at 19 mpg combined. It's important to point out that a lot of those options have less power than the Supra.
We expected the increase in power to result in slightly less fuel economy, so this isn't out of the blue. Furthermore, consumers looking to purchase a high-performance sports car like the Supra probably aren't expecting to get excellent fuel economy. We don't see shoppers shying away from the 2021 model because of a 1 mpg difference in combined fuel economy. Consumers wanting something fuel efficient will have to wait for the introduction of the four-cylinder engine, which is right around the corner. We still don't know fuel economy figures for that engine yet, but with 255 hp, we're expecting much better numbers than the larger, more powerful six-cylinder engine.