The 2021 Volkswagen ID.4 isn't the automaker's first electric vehicle and it certainly won't be its last, but, at the moment, it's the one that has to carry the torch of showing how serious the brand is about its electric future. With an estimated range of 250 miles on a single charge, the interior space of a compact SUV, and, according to VW, the performance of a Golf GTI, it certainly looks like the ID.4 has all of the ingredients to be a hit.
Beneath the ID.4's body sits VW's modular electric drive architecture (MEB). The architecture houses 288 pouch cells, an 82-kWh battery, and a rear-mounted electric motor. Total output is rated at 201 horsepower and 228 pound-feet of torque. These figures are for the rear-wheel-drive ID.4, which will be followed by a more powerful, all-wheel-drive variant with 302 hp in 2021.
When it comes to charging, the ID.4 comes with an 11-kW charger that brings 33 miles of range in roughly an hour. You'll have to stay plugged in for seven and a half hours to get a full charge at home or at a Level 2 charger. Plug the ID.4 into a DC fast-charging station and the electric SUV only needs 38 minutes to get 80% of its range back. Thanks to Electrify America's partnership with EVgo, ID.4 owners will get three years of fast charging on the house.
Compared to the competition, the ID.4 stacks up fairly well. The Chevrolet Bolt EV has a range of 259 miles, Hyundai Kona Electric can travel 258 miles on a charge, the Kia Niro EV has 239 miles of range, Nissan Leaf Plus is rated to travel up to 226 miles on a charge, Ford Mustang Mach-E has an estimated range of up to 300 miles, and Tesla Model Y boasts up to 316 miles of range. While the majority of those options are front-wheel drive, the ID.4, strangely, is rear-wheel drive. That should make it more enjoyable, but only time will tell on that front.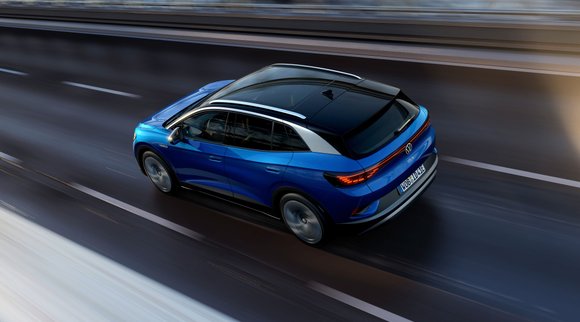 When it comes to horsepower, the ID.4 is right there in the middle of the pack. The Leaf Plus is the most powerful of the bunch with a 214-hp 160-kW electric motor, both the Niro EV and Kona Electric have 201-hp 150-kW motors, and the Bolt EV is powered by a 200-hp 150-kW electric motor. The Mustang Mach-E has multiple engine configurations that range from 255 hp to 459 hp. Tesla doesn't provide a horsepower figure for its electric vehicles.
VW certainly believes the ID.4 is the complete package. Scott Keogh, Volkswagen Group of America's CEO claims, "It drives like a GTI, it has the packaging of a Tiguan and the purpose of a Beetle. All the best things about VW in one package."
Based on initial reports, we expected the ID.4 to have roughly 300 miles of range. While 50 extra miles may not sound like a lot, it could mean the difference between getting home or being stranded on the side of the road in an electric vehicle. While VW claims the ID.4 has an estimated range of 250 miles, that figure could shrink when the EPA does its official testing, similar to what happened with the Audi e-tron. So, it's a little disappointing. What VW does offer, is excellent fast-charging capability, but consumers will have to live close to a station to take advantage of that.
Pricing for the rear-wheel-drive ID.4 Pro starts at $39,995 (VW didn't confirm how much destination will be) and the vehicle is eligible for the full $7,500 federal tax credit. The limited-edition ID.4 First Edition will carry a price tag of $43,995. The dual-motor, all-wheel-drive version of the ID.4, which will be called the ID.4 AWD Pro, will cost $43,695. VW plans to sell the ID.4 throughout the entire country and all buyers have to do to reserve a model is to put a $100 deposit down through VW's special site. First Edition models will be on the road by 2020, while the other models will come out in 2021.