GMC broke the internet when it announced the electric Hummer EV. Reports indicate that reservations for the Edition 1 truck were all accounted for within the first 10 minutes. For consumers that felt like they missed out on the hottest new vehicle, don't worry. GMC plans to offer three different versions of the Hummer EV, so there will be plenty of opportunities to purchase a model in the future.
While the Edition 1 is the first Hummer EV available, GMC will come out with the Hummer EV2, Hummer EV2X, and Hummer EV3X by 2024. The Hummer EV3X will be out by Fall 2022, the Hummer EV2X is coming Spring 2023, and the Hummer EV2 will go on sale Spring 2024. Interestingly, consumers will have to wait a long time if they're looking to get the most affordable Hummer EV. The Hummer EV2 will start at $79,995 (prices include destination), the EV2X will cost $89,995, and the EV3X is priced at $99,995. This is a similar pricing structure that Tesla follows, with more expensive EVs launching before more affordable options.
Beyond pricing and launch dates, the three versions of the Hummer EV will have different features. The most expensive EV3X comes with GMC's three-motor system, torque vectoring, and maximum acceleration for a zero-to-60 mph time of roughly 3 seconds. These features are in addition to everything found on the EV2X, which comes with adaptive air suspension, GMC's CrabWalk mode, four-wheel steering, GMC's Extract Mode, and a two-motor layout. The EV2 is a basic model, featuring a two-motor drive system and no other noteworthy piece of standard equipment.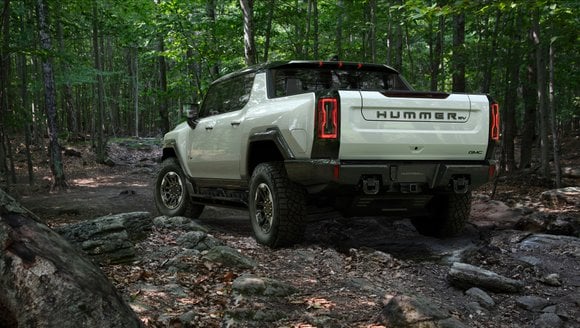 All three of the models are much more affordable than the Edition 1, which costs $112,595. The limited edition trim comes with an Extreme Off-Road Package, adaptive air suspension, GMC's Extract Mode, GMC's CrabWalk, four-wheel steering, a three-motor setup, Watts to Freedom mode for maximum acceleration, Super Cruise, removable roof panels, GMC's MultiPro tailgate, a 13.4-inch infotainment screen, and a 12.3-inch center display. Yeah, the Edition 1 comes packed with tons of features, as it should for its insanely high price tag, but reservations sold out in just 10 minutes. We're sure some of these features will also be available on the more affordable trims that are coming out, but GMC hasn't released official specifications and most likely won't until the vehicles are just about to come out. GMC hasn't announced exactly how much range the Hummer EV will have, besides claiming over 350 miles.
With the release of the Hummer EV, GMC is one of the first to come out with an electric pickup truck. Production of the Hummer EV is expected to start before the end of 2021, which is around the same time Rivian is supposed to come out with the R1T. That pickup truck will carry a starting price tag of $69,000. Ford is also working on an electric pickup, though we don't have any official information on it. That pickup won't be on the market until 2022. Tesla made waves with its Cybertruck, but production isn't expected to start until late 2021. So, for the moment, it looks like GMC may have beat everyone to the punch.