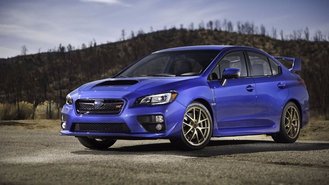 Subaru is issuing a recall for 9,178 examples of the 2015 WRX for a potential issue with the factory-installed subwoofer that could cause it to overheat and start a fire. Subaru first discovered the problem in January of this year and began an investigation, according to the National Highway Traffic Safety Administration.
The trunk-mounted subwoofer could be hit with various objects, such as luggage, causing a wire to become dislodged from its fixed position. If the wire comes in contact with the metal frame, an intermittent short could occur, damaging the subwoofer's circuitry.
The wire could also create a continuous electrical current. If this happens, the sub could overheat and increase the risk of a fire. A crackling noise when the audio power is on is an early indication a short in the wire is occurring. Turning off power to the sound system prevents the defect from happening.
Subaru already notified dealerships of the recall earlier last month. Dealerships will inspect affected WRX models for the faulty subwoofer wire. If the wire is still in the correct position, the dealership will install a spacer clip kit to prevent the wire from becoming dislodged.
If the wire is not where it's supposed to be, the dealership will replace the subwoofer, which includes the wire with the spacer clip kit already installed. Also, if the amplifier is damaged, it will be replaced.