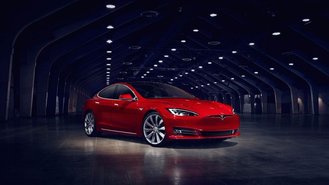 One insurance company suggests Teslas are involved in more frequent and more expensive claims than the average luxury car, and proposes a big rate hike on the electric vehicles.
AAA says insurance premiums could rise as much as 30 percent based on claims data from a number of agencies that suggests the Tesla Model S and Model X are involved in more crashes and are more expensive to repair than vehicles of comparable size, Automotive News reported Monday.
The Highway Loss Data Institute, a firm that analyzes claims on vehicles, cites data from 2014 to 2016 that shows the Model S is involved in 46 percent more claims than the average vehicle. The Model X's claims were 41 percent above average, and the cost of the claim was 89 percent above average.
In a statement to Automotive News, a Tesla spokesperson said the study of the data was faulty and did not compare the Model S to vehicles it considers to be in a similar class. The Highway Loss Data Institute puts the Model S sedan in the large luxury class that also includes the Audi A6, BMW 5-Series and Mercedes-Benz E-Class sedans. As a category, large luxury cars have among the highest claims rates among all vehicles, according to the Institute.
Tesla has been involved in some high-profile crashes, some of which have centered around its Autopilot semi-autonomous driving system. Modifications have been made by the company to improve the safety of the feature.
Yet Tesla says it's also working with insurers to appropriately adjust rates to reflect its vehicles' ability to avoid crashes in the first place because of Autopilot.