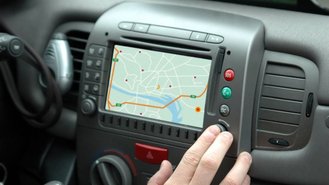 While automakers have made cars better than ever with more high tech features, it looks like infotainment systems are straggling behind. According to a recent study by the AAA Foundation for Traffic Safety and the University of Utah, Apple CarPlay and Android Auto were found to be less distracting to use for drivers than automakers' own built-in infotainment systems.
The study found that Apple CarPlay and Android Auto were found to operate 24 percent or five seconds faster than a car's built-in system when it came to making a phone call. Staggeringly, programming the navigation system to go to a new destination with the systems were found to be 31 percent or 15 seconds faster.
While five seconds here or 15 seconds there doesn't sound like a big deal, the AAA Foundation for Traffic Safety claims that looking away from the road for more than two seconds doubles the risk of getting into a crash.
For its study, the organizations tested infotainment systems in various cars ranging from a 2018 Kia Optima to a 2017 Land Rover Range Rover Sport HSE. Infotainment systems in the Chevrolet Silverado, Kia Sportage, Kia Optima, and Ram 1500 were found to be moderately demanding. Systems like the one found in the Volkswagen Jetta were found to be highly demanding. The Nissan Rogue SV's, Mercedes-Benz C300's, Range Rover Sport's, Buick Enclave's, and BMW 430i xDrive's infotainment systems were all found to require a very high amount of demand.
The findings make sense, as individuals interact with their smartphones more often than their vehicle's native infotainment system. Not only that, but smartphone manufacturers are just better at developing infotainment systems.
"Automakers are experts at building safer cars, but Google and Apple are more skilled at building safer vehicle infotainment technology," said Marshall Doney, AAA's president and CEO. "By leveraging their strengths, the two industries must work together to significantly improve the design, functionality and safety of these technologies."
Despite being easier and faster than native systems, AAA encourages drivers not to use any systems when driving. The issue, as the study found, was that drivers still took up to 33 seconds to program a new destination into a navigation system. At a speed of 25 mph, a driver can cover approximately three football fields of length. Apple CarPlay and Android Auto may be easier to use, but drivers should always keep their eyes on the road.