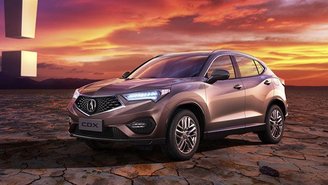 In a recent interview with Wards Auto, Jon Ikeda, VP and General Manager of Honda's Acura division, hinted that the company is currently considering bringing the Acura CDX – a subcompact crossover based on the Honda HR-V and sold only in China – here to the US.
That'd be a smart play for Honda's luxury brand, as sub-compact premium CUVs are all the rage in the US market. BMW, Mercedes-Benz, Audi, Infiniti, and Buick are all fighting over sales, while Cadillac and Lexus are both preparing cute utes of their own. A small CUV would also give Acura a more affordable way to entice customers, behind the $37,000 RDX and the three-row MDX flagship. Ikeda also sees a need for a three-row, on-road SUV to challenge the Infiniti QX60, which strikes as us a vehicle that'd be bigger than the MDX.
According to Ikeda, selling the CDX in other markets, including the US, isn't as easy as it might seem due to differing regulatory rules. But with year-over-year sales of its sedans down by thirty percent through the end of March, Acura may not have a choice.