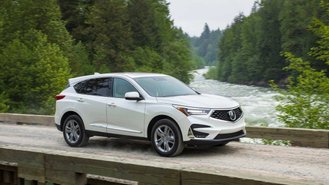 At the moment, only a few vehicles in Acura's lineup have Android Auto compatibility. Those vehicles include the Acura MDX, NSX, and TLX. Now, Acura's bringing the smartphone integration to another vehicle in its lineup: the RDX. Instead of having to go to the dealership to have your crossover's software updated, Acura is bringing Android Auto integration through an over-the-air update.
Starting today, RDX owners can update their infotainment system by hitting the accept button on their True Touchpad Interface, which will allow the embedded Wi-Fi system to download the new software. Whether the vehicle is being driven or not, the new software is downloaded in the background. To start the update, the RDX has to be turned on. Uncomfortable with tech? You can still visit your local Acura dealer to have them complete the update.
Over-the-air updates aren't new for the RDX. Acura rolled out the high-tech feature with the 2019 model when it came out toward the end of 2018. Since then, Acura has come out with a few over-the-air updates to improve functionality and fix infotainment issues.
When Acura rolled out with a new RDX for the 2019 model year, the compact crossover received a new infotainment system. Instead of the two-tiered layout of the previous RDX, the new one gets one single 10.2-inch display that has Acura's new True Touchpad system. The old infotainment system was frustrating because of its poor menu layout, its confusing dual-screen setup, and how many buttons it had.
The new infotainment system is much easier to use, is much more modern, and has more functions – like a split-screen view, natural voice recognition, and handwriting recognition. Our one complaint was that Android Auto was missing, which has been mended with the over-the-air update.
The RDX was the first vehicle in Acura's lineup to come with the new infotainment system with over-the-air update technology. While Acura hasn't confirmed whether other models will get the new system, we're confident that the brand used the new RDX as a way of previewing what the rest of its lineup will have in terms of infotainment systems in the future, as the dual-screen setup wasn't exactly loved.