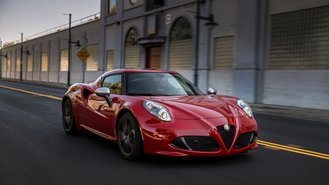 Alfa Romeo has killed the 4C Coupe for the 2019 model year. The automaker's product manager Danny Britt confirmed the information to Motor Authority. While the two-door coupe won't stick around after 2018, the 4C Spider will. But that model will see its price go up $1,000 from $67,495 to $68,495 (both prices include destination).
Despite being a miniature supercar, the 4C Coupe and Spider aren't the easiest vehicles to live with and require a lot of compromise on the driver's part. The sports cars fit into a specific niche, which probably has something to do with the sales. FCA Authority reports that Alfa Romeo sold a total of 406 units of the 4C in 2017. For the first five months of 2018, Alfa only sold 95 units of the sports car. The outlet doesn't state whether those figures are for the 4C Coupe, 4C Spider, or both.
The 2018 Alfa Romeo 4C Coupe currently starts at $57,495, which is $10,000 less than the 2018 4C Spider. So, if you've been on the fence about getting into a 4C, now's the time to buy one as prices are going to go up in the near future. A rearview camera will become standard for 2019, though.
The discontinuation of the 4C Coupe isn't the only change that's happening to the 4C lineup. The available Track Package that adds things like a carbon fiber rear spoiler, a leather and microfiber steering wheel, a race-tuned suspension setup, carbon fiber mirror caps, and staggered 18-inch and 19-inch wheels won't be offered as a single package. Instead of offering these features in a single package, Alfa Romeo will make these available as standalone options.
Besides the poor sales figures, Alfa Romeo may have another reason for dropping the 4C Coupe. As Motor Authority points out, the automaker has plans to bring the GTV moniker back. The vehicle will return as a coupe with a 2+2 layout and have a hybrid powertrain that's rumored to make somewhere in the neighborhood of 600 horsepower. A new 8C supercar has also been confirmed to be in the works.