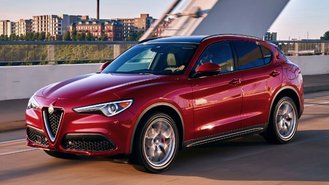 Up to 12,595 examples of the 2018 Alfa Romeo Stelvio SUV are being recalled over potential water leaks. During production, bad seals could allow water to leak through either the SUV's roof or its tailgate, which could cause electrical issues.
Water that leaks through the Stelvio's tailgate could short parts of the crossover's electrical system, causing the power tailgate mechanism to open automatically. If water leaks through the roof, damage to the wiring harness that controls the Stelvio's horn, windshield wipers, and exterior lights is possible, compromising those functions.
Alfa will fix the issue by applying additional body sealant around the rear tailgate wiring harness and around the windshield. The fix is free with owners receiving recall notices beginning in late May. Alfa says there've been no injuries reported related to the issue; however, the automaker noted it's aware of several warranty claims tied to the problem.
The affected vehicles were built between March 2017 and February 2018, which is essentially every Stelvio sold in the US.
Owners that need more info can reach out to FCA's recall center at 800-853-1403 or to Alfa Romeo directly at 866-932-3881. Uncle Sam and the National Highway Traffic Safety Administration's Vehicle Safety Hotline are available too, at 888-327-4236.