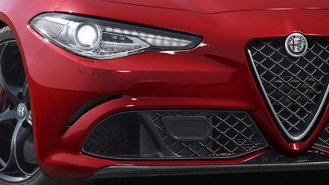 Happy belated birthday, Alfa Romeo. Yesterday marked the Fiat Chrysler Automobile-owned automaker's 105th birthday and also spelled out the upcoming return of the brand's next high-volume hit to U.S. soil. Though the sleek 2015 Alfa-Romeo 4C has been on sale in the America for less than a year, the last old Alfa Romeo sedan to grace American roads was the 1995 Alfa Romeo 164. It had some appeal, but a bevy of reliability issues turned prospective American buyers away. Twenty years later, the brand will sell their gorgeous Giulia four-door sedan which will not only compete with the BMW 3-Series, Audi A4 and Mercedes-Benz C-Class--but legions of Toyota Camry and Honda Accord shoppers, as well. The Giulia goes on sale in the first half of 2016.
| | | |
| --- | --- | --- |
| | MSRP | Key Attributes |
| 2016 Alfa Romeo Giulia | $30,000* | Unique styling, performance, prestige. |
| 2015 Toyota Camry LE | $23,795 | Value, fuel economy, reliability, low cost to operate. |
| 2015 Toyota Camry XSE | $32,195 | Luxury, upscale styling, connectivity, enhanced safety. |
| 2015 Honda Accord LX | $22,925 | Value, fuel economy, reliability, low cost to operate. |
| 2015 Honda Accord Touring | $34,450 | Connectivity, sportier styling, enhanced safety. |
*Estimated base pricing.
Sneak Preview: 2015 Alfa Romeo 4C Spider »
The Past is the Past
The Alfa Romeo of old is the Alfa Romeo of old. Today's brand is a totally different animal, akin to how Hyundai and Kia turned their vehicles around to eventually top their Japanese nemeses. Moreover, the brand that sold cars for U.S. consumption in the 90's was a standalone company. It was troublesome to get the vehicles serviced and parts were costlier than those of your typical Taurus or Tempo.
The New Alfa Romeo
Today, Alfa Romeo is owned by Fiat Chrysler Automobile (FCA) which will give prospective owners an easier time when bringing in their vehicles for service. It's all part of FCA CEO Sergio Marchionne's plan to spend $5.6 billion on re-launching and re-invigorating the brand here in the U.S. And make no mistake about it: this isn't the same Alfa Romeo.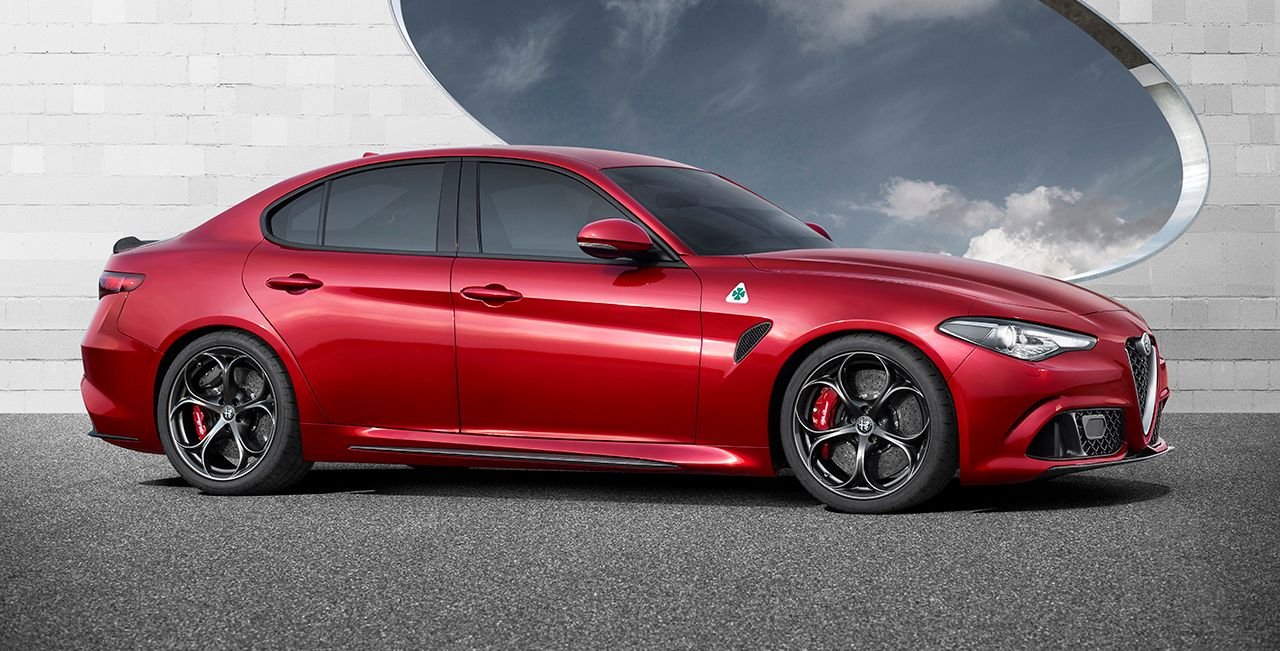 New Eight Model Lineup
Eight new models are planned and will peg global sales to an estimated 400,000 in 2018. Exactly how many of those will be sold in the U.S. remains to be seen. The limited production numbers of the 4C only saw sales of 40 units last month and 386 total since the model's November 2014 release. But the Giulia might end up being the game changer the brand is looking for, as it competes in the high-volume sedan segment.
And although the initial BMW and Audi comparisons have already been laboriously drawn, we think that the guys shopper for the higher trim levels of both the Camry and Accord will definitely take notice, especially with the rumored $30k price tag of the Giulia.
As for the remaining seven models, a variety of options exist as evidenced below: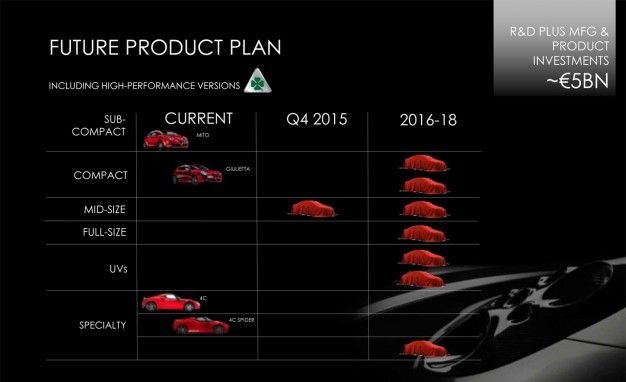 The future looks good for car shoppers who will now have another buying option, helping to assuage the sadness of losing manufacturers like Saab.