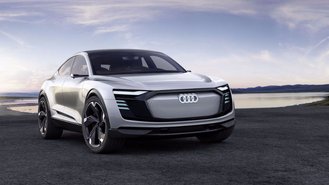 Those in the market for an electric Audi will have even more choice in 2019 than they will next year.
The German brand confirmed it will start production of the Audi E-Tron Sportback in 2019, a year after the E-Tron electric SUV starts rolling off the line at its plant in Brussels, Belgium.
The E-Tron Sportback will draw significant inspiration from the concept of the same name that was unveiled at Auto Shanghai 2017. It featured a 320-kilowatt electric drive motor and a fastback profile reminiscent of the company's gasoline-powered A7 models. But because it is based on Audi's dedicated electric vehicle platform, batteries and other EV components shouldn't rob the cabin of much usable space.
Like a number of brands including luxury rivals BMW and Mercedes-Benz, Audi is filling its lineup with not only hybrid-electric versions of existing models, but also developing new dedicated vehicles to house the technology as a sort of environmental halo – and to better compete against Tesla's new models.
Expect the E-Tron Sportback to compete with the Tesla Model S when it appears in 2019.