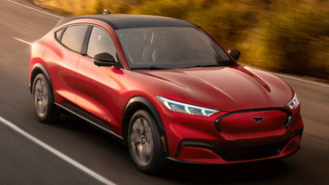 Nearly every reservation for the 2021 Ford Mustang Mach-E is being made online, documents from Ford reveal. According to a bulletin sent to dealers earlier this week in Southern California, only about 5% of individuals actually bothered to physically go to a dealer to stake their claim on the brand's first all-electric SUV.
Buzz for the all-new model has been strong, driven by attention-grabbing specs like a range of up to 300 miles, a 0-60 mph sprint in the mid-3-seconds and a starting price just under $45,000 in its base form before incentives. According to Ford, just 92 out of 1,712 reservations to date in the region were made "in-dealer".
We consider this pretty unsurprising. After all, Ford only requires a $500 refundable deposit to save your place in line before putting in a firm order. The brand launched its online configurator about a year before the vehicle's arrival in order to allow customers to begin building their vehicles and to pick a dealer.
Interestingly, some dealers are managing to nab more reservations than others in Ford's Los Angeles marketing region.
Galpin Ford in Van Nuys leads the pack with 97 reservations at present. Other top dealers in the region include Tuttle-Click Ford in Irvine (78), Santa Monica Ford (72), South Bay Ford in Torrance (63), Vista Ford in Woodland Hills (62), followed by Star Ford in Glendale (58).
According to Ford, 1,620 of the 1,712 reservations for the region were made on the brand's official website. Mach-E buyers clearly don't seem to be finding any value in an in-person experience at this early stage. Late last year, Ford revealed that over a quarter of reservations came from California.
The brand also revealed that 80% of requests were for the optional extended range battery and 55% were for one with all-wheel-drive. About 30% of customers here in the U.S. chose the sportier GT trim, which isn't due to arrive until early 2021 and promises distinctive styling and better performance.
With deliveries of the first Mach-Es not scheduled to begin until later this year, Ford has taken unusual steps to carefully manage the vehicle's launch. For example, the automaker isn't letting dealers advertise prices under MSRP and has laid out special rules for its discounted in-house Plan Pricing program.