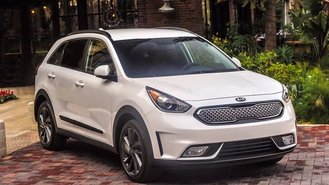 Amazon wants to make the car-shopping and -buying process easier for prospective buyers, at least for those that are interested in a new Kia Niro. The company is teaming up with the South Korean automaker to help customers get behind the wheel of the new hybrid crossover.
The Niro Skill for Amazon Alexa gives users the ability to get the lowdown on the crossover from their own home. Alexa can provide everything from specifications on the Niro to local dealer inventory. The personal assistant can even help users schedule a test drive at their local dealership. What a time to be alive.
To initiate the conversation with Alexa, users can say, "Alexa, start Kia Niro," or something similar to that. From there, users can learn anything they'd like about the Niro. Some examples of questions include, "Ask Kia Niro about pricing," "Tell me about the powertrain," and "How much space does it have?"
"The future is now with user-friendly interfaces such as Amazon Alexa, and Kia is focused on giving our customers convenience and flexibility in the mobile way today's shoppers are looking for," said Kimberley Gardiner, Kia Motors America marketing director.
Alexa users will need to enable the Niro Skill before taking advantage of the new feature. Amazon claims that more features will be added in the near future.