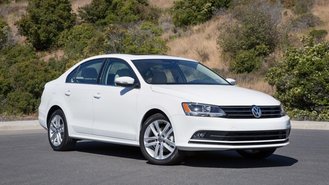 Volkswagen has been hemorrhaging executives and other higher-ups since the Dieselgate scandal broke in 2015. Today, the German automaker loses yet another top-level executive, but it sounds as if it wasn't a result of the scandal.
The executive in question is Michael Horn, the CEO of Volkswagen Group of America. According to the report from Automotive News, the CEO and VW broke ties mutually. The move will be effective immediately and there is no mention of an immediate replacement.
While his departure might not have direct ties to the Dieselgate scandal, it is likely partially due to slumping Volkswagen brand sales in the U.S. While the entire VW group sold 606,084 units in 2015—an increase of 7,093 sales—VW brand slipped by nearly 18,000 units to 349,440 in the same year. Before you start blaming the Dieselgate scandal for the sales slide, please keep in mind that this slide began well before the emission-cheating devices were uncovered.
Though sales lagged, Horn's straightforward ways were loved by dealers in the U.S. and they made their anger known following the announcement of his exit. His loss is seen as a "serious blow" to American dealers and many are said to be "deeply concerned" about his vacant post. The VW National Dealer Advisory Council went so far as to say "This change in management can only serve to put the company at more risk, not less" in reference to the diesel scandal and its impact.
While it is apparent that dealers loved the way Horn managed, this change shouldn't have an immediate impact on their day-to-day operations. Buyers can still expect great deals from local dealers like huge manufacturer-to-dealer incentives on the 2015 e-Golf and the 2015 CC. Also available is a great $189-per-month lease deal on the 2016 Passat. If financing is more your thing, you can also get the Passat with 0 percent APR for 60 months.