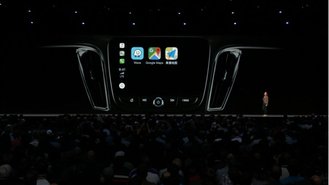 Soon, drivers with Apple CarPlay will be able to display Google Maps and Waze through their vehicles' infotainment screens. Apple revealed that the latest version of its mobile operating system – iOS 12 – will allow for third-party navigation apps to be used through its CarPlay system.
Apple CarPlay allows a car's infotainment system to mimic a driver's iPhone. Most car manufacturers incorporate CarPlay into their vehicles, but the system only works for certain phone apps. At first, CarPlay only supported Apple apps, such as Phone, iMessage, Podcasts, and Music. However, third-party app developers were able to apply with Apple to become CarPlay-enabled. This allowed other useful apps like iHeartRadio and Spotify to make their way onto CarPlay, but the system never supported a third-party navigation app...until now.
The announcement came at the tech company's annual Worldwide Developer Conference on Monday, June 4. While Apple was light on details, they did show a screen of CarPlay with iOS 12 in action at the conference, where Waze, Google Maps, and the Chinese-market Autonavi app were all on display.
Apple said iOS 12, which is compatible with iPhone 5S and newer devices, will be released as a free upgrade this fall. It's not clear if Waze, Google Maps, and other third-party navigation apps will be available right away, but iPhone users with CarPlay can rest easy knowing they'll be available soon.