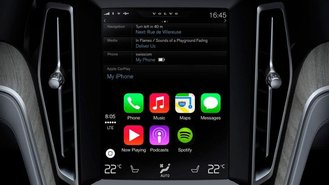 Apple's not going to buy Tesla. Yet. But if you're in the market for a new car in 2015, the good news is that the Cupertino-based company is bringing their highly-anticipated infotainment system, CarPlay, to no fewer than forty 2015 - 2016 models. Earlier this week, Apple CEO Tim Cook made mention of CarPlay's future and what it means for consumers, namely, the millions who currently own an iPhone 5, 5s, 6 or 6 Plus. And no--that's not a typo--only phones featuring Apple's Lightning connector will be supported, so owners of the 4 and 4s are out of luck. If you're upgrading your ride, you might as well update your phone, right?
Sneak Previews for 2015 - 2016 Models »
How CarPlay Works
Apple's CarPlay, like the majority of the company's products, works intuitively and seamlessly. A driver (or passenger) will simply plug in their iPhone into the vehicle's integrated lightning port. All of the apps, maps and music found in the phone will make their way to the navigation screen of the vehicle, which will provide a bigger, brighter and safer way to access the information.
But not all of the phone's content will be accessible to the driver--games and other more distracting apps will be disabled while in motion, smashing the hopes of Candy Crush addicts--but bringing relief to the millions of other motorists that share the roads with them.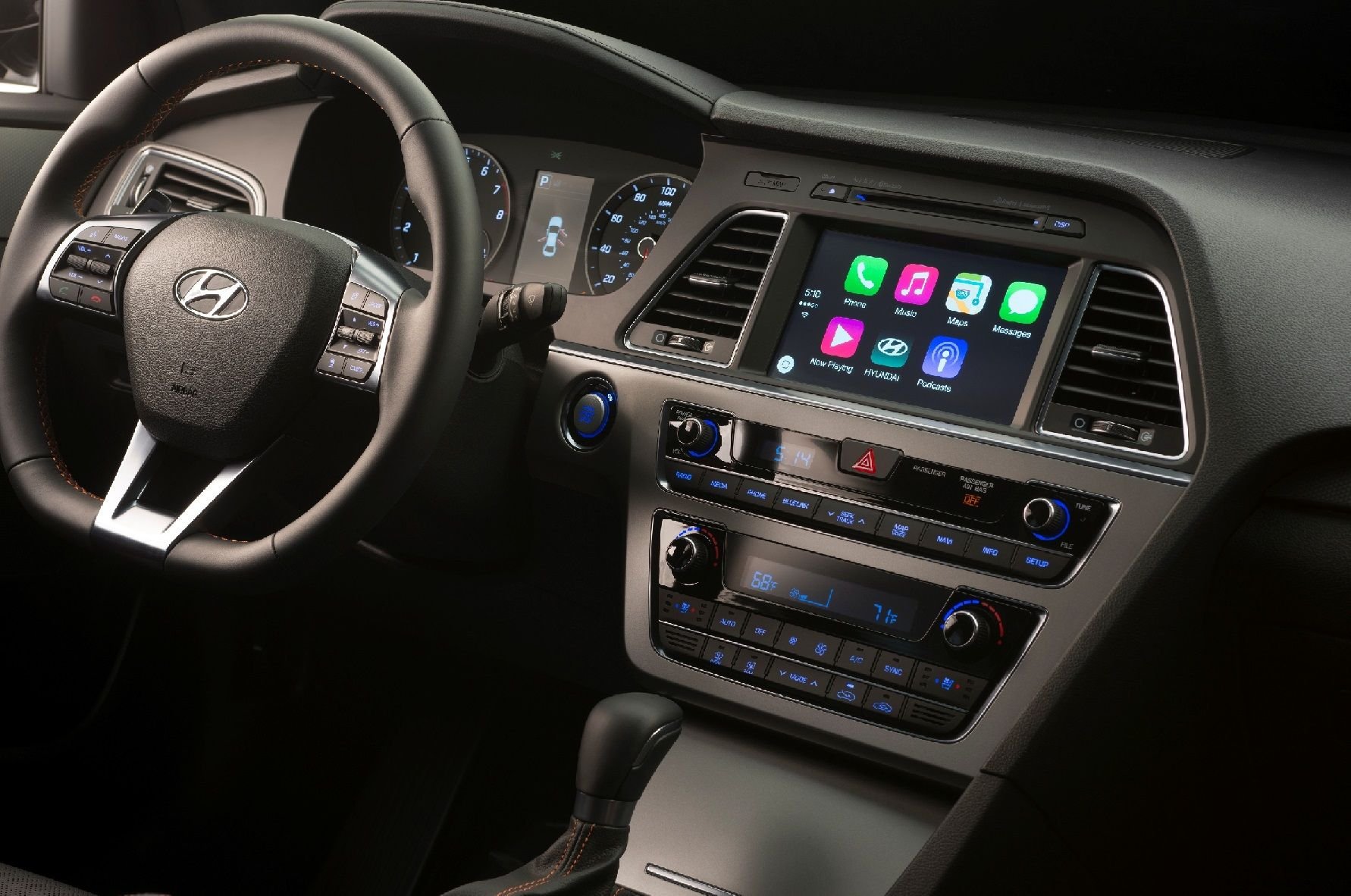 Models That Currently Feature CarPlay
At the time of this writing, only a few Ferraris feature the sought-after tech. We know, we know. But that's going to change soon, as a slew of manufacturers have jumped on board. The 2015 Hyundai Sonata will be the first to offer it, but only as part of a mid-year refresh scheduled this summer.

Upcoming Models to Feature CarPlay
In addition, the following manufacturers will also feature Apple CarPlay: Audi, BMW, Chrysler, Dodge, Fiat, Ford, Honda, Hyundai, Jaguar, Jeep, Kia, Land Rover, Mazda, Mitsubishi, Nissan, RAM and Subaru.
Note that these manufacturers are listed as "committed partners" at the very bottom of Apple's site. Oddly, Toyota is listed, though we don't know if that's a prediction or simply a mistake.
Making the Case for Safety
Today, more than nine people will die as a result of what's known as distracted driving. That's nine too many. Apple's CarPlay will help make commutes safer. Before you scoff at the notion, listen: there's going to be the argument that drivers are going to spend too much time fiddling with the navigation screen instead of driving.
But think: when phone users text/surf/chat, they normally have their eyes and head aimed toward their phones, which more often than not, are plopped on their laps. Maybe out of convenience--but more likely out of eliminating the possibility of getting caught and fined by law enforcement.
CarPlay will keep driver's eyes up and at eye level with what's in front of them. Commands that would usually require hands-on contact will now be accessed hands-free, using an operating system than millions already know. Life is the single most valuable thing in the world, and we're collectively confident that the new system will help reduce accidents and make our roads safer.
Agree? Disagree? Please feel free to leave a comment below.