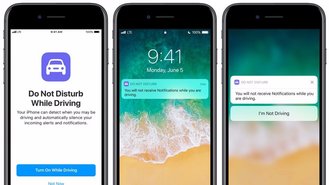 Despite laws against it in most states, drivers are still using their phones while driving. Now Apple has intervened.
The maker of the iPhone announced Tuesday at its annual Worldwide Developers Conference that iOS 11, the next-generation operating system for the popular line of smartphones, will get a dedicated Do Not Disturb While Driving function that disables notifications if you're behind the wheel. Hallelujah!
The setting blacks out your iPhone screen if the device senses you're driving, although it can be overridden if you're a passenger in a vehicle, or if you have certain contacts preset to bypass the function. The system will also send a default message – "I'll see your message when I get where I'm going," according to USA Today – to most of your contacts. And much like iOS' standard Do Not Disturb function, you can program the system to allow notifications from your favorite contacts.
But the overall intent is to keep your attention on the road more of the time and not picking up your phone for every Tinder or Snapchat or random game notifying you about something that isn't important while driving a vehicle. That sounds good, although we do have questions. How will Do Not Disturb While Driving interact with Apple CarPlay and other infotainment systems that can read texts to drivers in a safe, hands-free manner? And what about the Apple Watch, will it still receive notifications?
We'll find all that out when iOS 11 launches to the general public as a free download this fall for the iPhone 5S through iPhone 7, as well as Apple's iPad tablet.