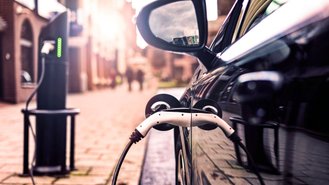 Range anxiety is still a major thing with electric car ownership. Across the board, range with electric cars has gone up, but they're still not close to being real alternatives to vehicles with internal combustion engines. As such, going on a road trip usually involves mapping out an exact route, ensuring there are electric chargers along the way or risk running out of juice. For the most part, owners have had to rely on OEM navigation systems, which aren't the best or easiest to use. Thankfully, Apple users are getting an Electric Vehicle Routing feature with iOS 14 that should make routing a trip in an EV much easier.
Apple's upcoming iOS 14 update is a massive overhaul for iPhone users. For EV owners, the new operating system includes EV routing that's based on your specific electric car and the environment where you're planning to drive through. By tracking the electric car's current charge, things like elevation change along the route, and number of available charging stations around the path, the iOS 14 feature can automatically add charging stops along the way. Since your iPhone knows exactly what kind of EV you're driving, there's no guesswork with whether the charging station will have a compatible charging system for your car.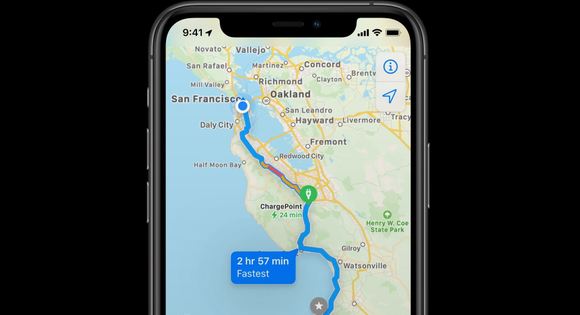 At the moment, there aren't a lot of vehicles the system is compatible with. Apple is currently working with BMW and Ford on integrating the tech with their electric cars. For Ford, the American automaker took to Twitter to confirm that the new Mustang Mach-E will come with Electric Vehicle Routing to help owners get the most out of their EV. At the time of writing, BMW hasn't stated which vehicles will be compatible with the iOS 14 feature.
While we don't necessarily see this feature bringing thousands of new consumers to electric vehicles, it could sway those on the fence. Planning a route based on available electric charging stations is a hassle and Apple's new feature takes a lot of the inconvenience out of the equation. For consumers that are interested in making the switch and want to take advantage of Apple's new nifty feature, quite a few electric car deals are being offered this month. If an all-electric vehicle doesn't sound appealing, some hybrids and plug-in hybrids are being offered with better deals than gas-powered vehicles this month, too.
Apple is also making a few minor changes to Apple CarPlay. Updating to iOS 14 will bring new wallpapers that users can choose from. Those are purely an aesthetic change. On the features side, Apple CarPlay will support new app types, including quick food ordering, parking, and electric vehicle charging. There's a new car key feature debuting on the 2021 BMW 5-Series that allows owners to unlock, lock, and start the vehicle all with their iPhone.
Apple plans to roll iOS 14 out to the public later this fall. A public beta version of Apple's new operating system will be available for download in July, though being in beta means bugs and flaws are bound to occur.