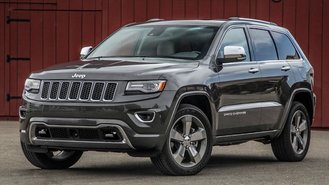 The best April sales in nearly a decade are expected later this week, especially for light trucks which also consist of crossovers and SUVs. The increase is big and will be responsible for 56% of total overall vehicle sales. The big jump takes into account the big 12% sales increase when compared to the first quarter of 2014. The best-seller continues to be the 2015 Toyota Tacoma, while the all-new 2015 Chevrolet Colorado and 2015 GMC Canyon continue to make big strides as their sales continue to soar--even without big incentives.
Full-size trucks also continue to move the needle, especially the new 2015 Ford F-150 and 2015 Chevrolet Silverado.
Search for more new truck deals »
But Why?
The reasons are twofold: ultra-low APR financing and low gas prices, the latter of which is giving consumers additional spending ability. Both are teaming up to lower the overall cost of vehicle ownership, even as car insurance premiums rise.
It might not seem like lot, but when you factor in that the low 0 to 0.9% APR interest over a typical 48 month loan on a $30k vehicle can save consumers around $2,500 in interest, you can see how the incentive effects a consumer's mindset. Throw in low gas prices, and you have the perfect storm for making the case for a new vehicle purchase.
And who can blame consumers? This summer presents an outstanding buying opportunity if consumers have their finances lined up.
Rates Will Rise
The Federal Reserve's Benchmark rate, which has been at 0% since the financial crisis, is scheduled to rise later this year, reportedly as high as 175 basis points, or, 1.75% in 2016. That will not only put the squeeze on dealerships--who already operate with razor-thin profit margins--but consumers, as well.
This Not That
Although tempting, opting for a bigger and more powerful engine effects your monthly fuel costs. Often times, it also impacts your insurance premium. Take for instance the extremely popular 2015 Jeep Grand Cherokee. It's available with four engine options, highlighted below.
2015 Jeep Grand Cherokee:
| | | | | | | |
| --- | --- | --- | --- | --- | --- | --- |
| Trim | Base MSRP | Engine | Fuel Type | Today's Avg. | Fuel Economy | Fuel Costs |
| Laredo 4x2 | $30,990 | 3.6L V6 | Regular | $2.55/g | 17/25 mpg | $159/mo |
| Limited 4x2 | $42,560 | 3.0L V6 Diesel | Diesel | $2.81/g | 22/30 mpg | $140/mo |
| Limited 4x4 | $41,355 | 5.7L V8 | Midgrade | $2.75/g | 14/22 mpg | $202/mo |
| SRT8 | $65,890 | 6.4L V8 | Premium | $2.94/g | 13/19 mpg | $245/mo |
It makes the most sense to go with the Pentastar 3.6L V6. Not only is it more affordable, but the fuel economy is decent. However, if were up to us, we would select the svelte 3.0L EcoDiesel with its 30 highway mpg. Although it comes at a $4,050 price premium compared to the Pentastar V6, it will save you $62/month in fuel costs when you compare it with the comparably-priced V8.
Check your local dealer for the best incentives on a Grand Cherokee »
Our Advice
It's easy to get caught up in the sales frenzy, especially with summer closing in fast. But it's important to be realistic and really think before you buy. For some, big swings in fuel prices won't impact their monthly budget. But for others, it might very well be the case.
Putting down all the costs associated with owning a new vehicle on paper is of paramount importance. It offers you a way to visually see what you're spending and how it impacts your financial flexibility.
Lastly, when deciding between trim levels, err on the side of caution when making your choice. Low gas prices might stick around for a year or two, but your loan is going to last much longer--up to four years longer in some cases. If you're stuck with an inefficient vehicle that gulps fuel, you're still going to be on the hook for your car payment, insurance costs, maintenance, repairs and rising fuel costs.