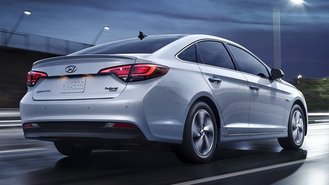 Fuel Economy. As it stands today, it's not the number one factor car shoppers take into account when shopping for a particular model, but it's definitely one that shouldn't be tucked away in the back of their respective minds. Granted, fuel prices seem to be dropping on a daily basis, and at the time of this writing average around $2.59/gallon*. But automakers looking to the future fully understand that this friendly price climate won't last forever. As reported by Automotive News this morning, Hyundai and Kia have made plans to double down on hybrid production.
Build & Price the 2016 Hyundai Sonata Hybrid »
Hybrids, EVs, Fuel Cell Vehicles
If their intentions come to fruition, the automaker could be poised to stand as the most fuel-efficient automaker on the planet. A wide range of technologies will get the resources needed for development, including hybrid, EV and fuel cell technology. And it will all happen soon. Between 2016 - 2018, they're looking to launch the following new models:
Hyundai Sonata Hybrid
Hyundai Sonata Plug-In Hybrid
Hyundai dedicated hybrid**
Hyundai full EV
Hyundai Tucson fuel cell EV
Kia Optima Hybrid
Kia Optima Plug-In Hybrid
Kia Soul EV
Kia dedicated hybrid**
According to Hyundai, both dedicated hybrid models will have their own aerodynamic shape to help lower their respective coefficient of drag numbers to improve fuel efficiency while setting them apart from the brand's other offerings. Think Toyota Prius, but with a Hyundai and Kia badge.
Interestingly, the only alternative fuel technology missing from their future lineup is diesel power.
Other Manufacturers' Alternative Fuel Vehicles
Which gets us to this: aren't other manufacturers already offering the same flavor pie to prospective shoppers? The answer is yes, they are. Here's a quick rundown of models geared towards shoppers looking for the latest in fuel efficiency and cutting-edge technology:

Hybrid: 2015 Toyota Prius
The perennial king, if you will, is the Toyota Prius. And yielding an impressive combined fuel economy of 50 mpg, it's the most fuel-efficient non-plug-in vehicle in the U.S. And it's one of the most reliable, lowest-maintenance models available for sale. Prices & Deals on the Toyota Prius »
Plug-In Hybrid: 2015 Chevrolet Volt (2016 Coming Soon)
The 2015 Chevrolet Volt was a huge step in the right direction for GM, and with the all-new 2016 Volt on the horizon, things will only get better for the plug-in shoppers looking to fill up their tanks once every 15,000 miles. Prices & Deals on the Chevrolet Volt »
Electric Vehicle (EV): 2015 Nissan LEAF
It might not have the range of a Tesla Model S, but it costs a fraction of the price and is flat-out one of the easiest cars to park and drive--perfect for both first-time drivers and those who find parking to be at a high premium. Moreover, the Nissan LEAF still manages to get a 84-mile range which is more than enough for the majority of commuters looking to eliminate their reliance on fossil fuels. Prices & Deals on the Nissan LEAF »

Hydrogen/Fuel Cell: 2016 Toyota Mirai
In terms of sales and popularity, fuel cell vehicles don't get the early adopters as frequently as some of the other alternative technologies mentioned here. But Toyota's aiming sharply at this mode of propulsion, and the upcoming 2016 Toyota Mirai will forge the path to zero-emission vehicles.
Diesel: 2015 Volkswagen Golf / Jetta TDI
In terms of diesel technology, you won't see a Hyundai or Kia model before 2018. That's not to say it's out of the cards completely. But for the here & now, the pair of models that continue to push the envelope in terms of fuel efficiency and fun are none other than the TDI-powered models from Volkswagen: the Golf hatchback and the Jetta sedan. Both offer outstanding near-hybrid fuel economy numbers of 31/46 mpg (manual) and grin-inducing torque (236 lb-ft worth). And with diesel hovering around $2.68/gallon, it's easy to see why consumers are giving diesel a hard look. Prices & Deals on the Volkswagen Golf and Volkswagen Jetta »
*Source: AAA Daily Fuel Gauge Reports, Regular Grade.
**Model name TBA.