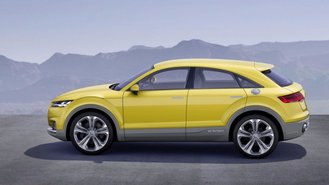 Like many other luxury companies, Audi is banking on a wide range of SUVs to boost its sales as customers fall in love with the design. The next on the list is a sportier SUV: the Audi Q4.
Audi has confirmed it will build the Q4 in 2019, according to Motor Authority. As its name suggests, it will slide between the Q3 and Q5 in the Audi SUV lineup. It will, however, be less upright than other and take on a sportier profile similar to that of the Audi TT Offroad Concept shown back in 2014.
The Q4 is set to be based on the next Q3, using pieces from models such as the Audi A3 and new Volkswagen Tiguan. Like most smaller Audis, the company's new CUV will likely use a turbocharged four-cylinder engine with alongside all-wheel drive. But expect the Q4 to also to be priced higher than the Q3, as it's for buyers who value style over space. Think of the Land Rover Range Rover Evoque as a prime rival.
And more Audi SUVs are on the way, such as an electric crossover and a new range-topping Q8 based on the large, luxurious and expensive Q7 three-row SUV to cap the range. So if a high-riding Audi is on your wish list, watch this space in the coming years.