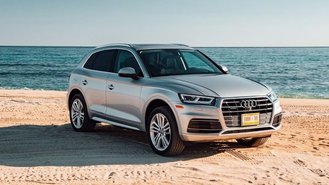 Two separate recalls have tied up several Audi models with potentially dangerous problems, one relating to airbags and the other an increased risk of fire.
Audi is recalling the 2011 through 2017 model year Q5 because of side airbags that might deploy without warning. But this particular recall isn't tied to the Takata airbag scandal that many automakers, including Audi, are stuck with. Rather, water trapped in the sunroof drainage system could leak into the foam of the headliner and corrode the airbag inflator. The National Highway Transportation Safety Administration says that could cause the airbag to unexpectedly deploy, potentially injuring occupants.
Audi will notify US-based owners of the 234,054 Q5s affected by this recall in February, at which point they can schedule an appointment with a certified dealership to have the repair made free of charge.
Audi will also notify owners that it will replace the coolant pump on certain Q5s and other models because it could overheat and increase the risk of a fire. Models equipped with a 2.0-liter turbocharged engine have a coolant pump that can be blocked with debris and overheat. The 342,867 vehicles affected under this recall include the 2013 to 2017 model year Audi A5, A5 Cabriolet, Q5, the 2013 to 2016 allroad and A4, and the 2012 to 2015 A6.
In that recall, owners should receive a mailed letter from Audi and then be able to schedule an appointment with a dealer's service advisor for the free fix.