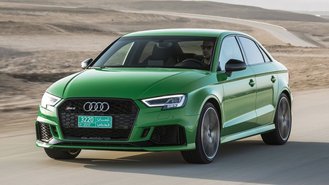 Fans of compact German performance cars now have another choice as the Audi RS3 is finally about to arrive in the US.
Audi has sold a fast versions of its pedestrian A3 model in Europe for several years, but the 2018 RS3 sedan will be the first time an iteration of that car will come to these shores.
To that end, it takes the A3 and S3 sedan body and beefs up the exterior with a revised grille and bigger spaces to catch the air, as well as 19-inch wheels and standard LED headlights. Inside, there are more reminders you're in an Audi Sport model with aggressively contoured seats meant to hold you firmly in place in the corners.
The RS3 gets a substantial upgrade over the A3 and S3, too. In place of a four-cylinder engine is a 2.5-liter turbocharged five-cylinder engine, rated at a full 400 horsepower. Audi claims this engine can get the RS3 from 0 to 60 mph in 3.9 seconds and on to as fast as 174 mph, when equipped with the Dynamic plus package. Audi's Quattro all-wheel-drive system is standard, as is a 7-speed dual-clutch automated transmission.
The 2018 RS3 will go on sale this summer starting at $55,875. Audi says a limited number of 2017 models with a hefty dose of options (navigation, premium audio and other trim pieces) will be available this spring. But either way, count on the RS3 to be a fairly exclusive performance sedan in this country.