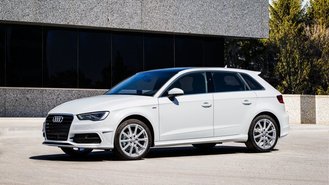 Each year, Consumer Reports—likely one of the most reliable consumer rating publications in the world—rates car manufacturers on their reliability and on-road performance. For the past three years, Lexus has topped the list. Today we learned that the publication has dropped Lexus to third on the list and lifted Audi to the top spot with an overall rating of 80.
The strangest part of Audi taking the top slot is the timing of it all. With the brand being tied up in the dieselgate scandal with its parent company, Volkswagen, it seems a little odd to be praising the brand for reliability. Consumer Reports, however, says that it has no interest in "corporate practices or brand perception" when measuring a brand's reliability and performance. Instead, it relies solely on testing and reliability reporting from its own tests and consumers.
In addition to Audi making a jump, Subaru also made a mild leap in the rankings as it moved into the number two overall slot. This move also makes Subie the Consumer Reports' number one non-luxury brand, leapfrogging Mazda. The latter fell to number two in the non-luxury segment and number six overall, sandwiched between BMW and Buick.
On the other end of the spectrum, Jeep was the worst according to Consumer Reports, scoring an average of 55 on its road tests and getting no recommendations from CR. Mitsubishi was a close second to Jeep and Land Rover came in third from the bottom.
Jeep wasn't the only FCA brand that had issues either, as Chrysler and Dodge ranked fourth and fifth from last, respectively.
If you're looking to pick up a great deal on Consumer Reports' best brand there are plenty to go around. For Example, the 2016 Audi A3 has great lease deals that start at $359/mo. with $2,153 due at signing, plus $1,250 in bonus conquest cash. If you're looking for something a little bigger, there is the 2016 A6 starting from $599/mo. with $3,393 due at signing, plus up to $1,500 in bonus cash.