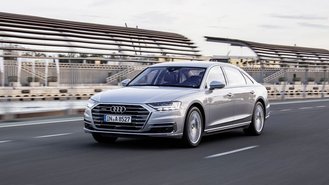 Audi is looking to make scrambling for cash at tollbooths a thing of the past, as the German automaker announced that it would come out with integrated toll-payment technology on some of its vehicles this year.

As Motor Authority reports, the brand's new technology is called the Integrated Toll Module and utilizes vehicle-to-infrastructure communication to make paying with cash obsolete. The system was developed by Gentex and, surprisingly, doesn't require toll authorities to add additional equipment to the booths.

At the moment, drivers need to register with their respective state's tolling agency and receive the correct transponder. E-ZPass, which is available in 17 different states, is the primary example that comes to our minds when it comes to being able to breeze past a tollbooth. Audi's new Integrated Toll Module sounds like its own version of E-ZPass.

Just like other transponders, the automaker's system will allow drivers to pass through any tollbooth without having to exchange any physical money. For drivers that regularly travel across state lines, the Integrated Toll Module will also be able to manage multiple toll accounts, making it possible for owners to get through different states without having multiple transponders.

The practical piece of tech is expected to work across the United States, Mexico, and Canada and is built directly into the rearview mirror. The system can be managed via the car's settings and can be turned on or off, as well as adjusted to account for the number of occupants in the vehicle when operating in HOV lanes.

Owners, as Motor Authority claims, have to register their vehicles online and enter their credit card information on the website, as well. Gentex handles everything else, including giving the correct amount of money to tollbooths.

Besides stating that the system would become available later this year, Audi didn't provide any information on what car the tech would make its debut on. The outlet points towards the sole image of what appears to be the 2019 A8's cockpit as a major hint that the system could make its debut on the high-tech sedan, which will launch later this fall.