The sporty Audi A4 luxury sedan will soon get a subtle change that quietly reduces the range of variants available to buyers.
In an unusual move, the automaker has decided to discontinue front-wheel drive in the car's more powerful 252 hp variant.
That vehicle will now only be sold with quattro all-wheel drive, while front-wheel drive will only be available in the entry-level Ultra version.
So what exactly does the change entail? How might this affect pricing? And what does this mean if you're in the market to buy?
Here's what you need to know.
Editor's Note: An earlier version of this article incorrectly stated that the A4 is offered with a CVT. It is in fact available with a DCT.
Tighter Lineup
Order guides show that for 2018, Audi has decided to only offer front-wheel drive in its popular A4 on the entry-level 190 hp Ultra model. The current next step up, a 252 hp car with front-wheel drive, has been discontinued.
There will now only be two versions: the Ultra offered with a dual-clutch transmission (DCT) and the more powerful 252 hp variant in quattro all-wheel drive with the choice of a manual or DCT.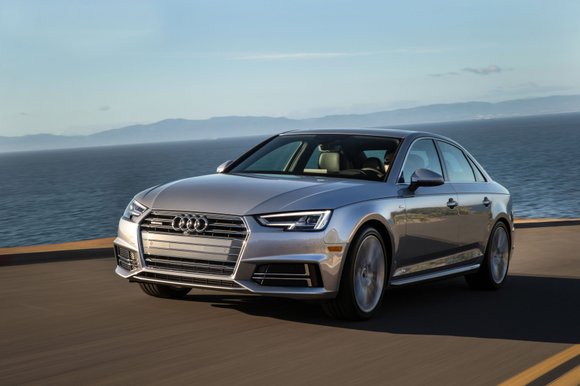 For reference, the Ultra (stylized for some reason as "ultra") was introduced last fall as a more fuel efficient (and less expensive) alternative to better compete with vehicles like the BMW 320i.
The new variant boasted best-in-segment fuel economy of 37 mpg highway (31 mpg overall) beating out the BMW 320i, Mercedes-Benz C300, Lexus IS 200t and Volvo S60.
That said, enthusiasts have likely continued to gravitate toward the more powerful 2.0-liter producing 252 hp offered in either front-wheel drive or Audi's well-regarded quattro all-wheel drive system.
For 2018, the 252 hp car will be offered only as a quattro. The change was confirmed for CarsDirect today by Audi spokesperson Amanda Koons.
Traditionalists may appreciate that Audi will continue offering a manual gearbox with the 252 hp engine. As before, a DCT is optional on that car but remains the sole transmission choice in the Ultra.
So what does this all mean, exactly?
Our Take
In a way, shoppers will soon have a smaller range of A4 models to choose from. There is, of course, the revived 354 hp 2018 Audi S4, but that's a different animal.
Although Audi hasn't released 2018 A4 pricing yet, we can't help but wonder how prices will shape up. At the entry-level, we think it's likely Audi will stick close to the current car's starting price of $35,850 with the Ultra.
However, now that the front-wheel drive 252 hp model is gone, opting for the more powerful car may require stepping well into the $40,000 range. In the case of the 2017 model, that's a difference of $4,500.
Will this be a premium shoppers will be willing to pay? That remains to be seen.
If you're looking to snatch up a front-wheel drive 252 hp A4, now is a good time to do so.
This month, Audi added a $1,000 bonus on every version except the allroad wagon. Well-qualified buyers can get 2.9% APR for up to 66 months.
Current Audi owners and lessees may also be eligible for a $500 loyalty bonus, or a larger $750 incentive when financing through Audi Financial.
We expect dealers to begin taking orders for the 2018 A4 in either late April or early May.
Check out our full preview of the 2018 A4 »