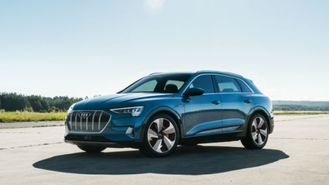 Automakers are finally ramping up their game when it comes to electric cars, and Audi has officially released figures for the highly anticipated E-Tron SUV. Unfortunately, the first fully-electric model from the upscale German brand isn't starting off on the best foot, as the E-Tron has an EPA-estimated electric range of 204 miles.

That's a disappointing figure compared to what other EVs on the market are offering. The Tesla Model X, which is probably the E-Tron's closest rival, has a range of up to 295 miles. The Jaguar I-Pace can travel 234 miles, which is awfully close to what the Chevrolet Bolt can manage at 238 miles of range. Then there's the Hyundai Kona, which boasts a range of 258 miles. In that crowd, the E-Tron is well off the mark.

While range is a little bit of a letdown with the E-Tron, the electric SUV's performance should be good. The model features two electric motors that make a combined 355 horsepower. In "Boost Mode," power is rated at 402 hp, while zero to 60 mph takes 5.5 seconds. The battery pack measures in at 95 kWh, but Audi claims the E-Tron is engineered to only use 88 percent of the pack (83.6 kWh). The thinking behind limiting the battery pack to just 88 percent of its potential is for "better longevity." In traditional Audi fashion, all-wheel drive is standard.

Audi's key advantage over its rivals is the E-Tron's ability to get a charge at 150 kW stations. The automaker claims the E-Tron is the only electric SUV to be able to charge at that rate. When plugged into an 150-kW charger, the E-Tron can get 54 miles of range in just 10 minutes. Waiting 30 minutes results in an impressive 163 miles of range. On a Level 2 charger, the E-Tron takes nine hours to charge. Tesla recently announced the introduction of 250-kWh Superchargers, but at the moment, the E-Tron is in a class of its own when it comes to quick charging.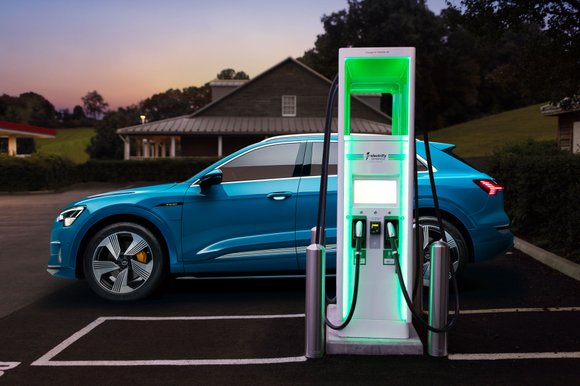 In terms of the number of chargers available, the E-Tron will be able to be charged at one of Electrify America's, which is one of Volkswagen's organizations, chargers. Electrify America plans to have 2,000 chargers across 500 locations in 42 states. While charging at 150 kW is impressive, Electrify America's chargers can handle putting out 350 kW. For E-Tron owners, Audi is giving 1,000 kWh of charging, which comes out to roughly 2,000 miles of range, for free at one of Electrify America's fast-charging stations. The catch is that you have to use juice within the first four years.

Besides charging capabilities, the E-Tron also offers Audi's Virtual Cockpit system, though it's a unique setup that's only available on the EV. Amazon Alexa is also fully integrated into the SUV and gives Amazon Prime members access to audiobooks, music, news, and control of Alexa-enabled devices from the vehicle. Other high-tech features that the E-Tron has over other EVs include vehicle-to-infrastructure technology, Traffic Light Information and Green Light Optimized Speed Advisory, and Toll Module Integration.

Pricing for the E-Tron starts at $75,795 (including destination). That makes it much pricier than the Bolt, Kona EV, and Jaguar I-Pace. Tesla's Model X, which has recently been restructured to now be called Long Range for its entry-level model, costs $90,700. Unlike with the Tesla, consumers can get the full $7,500 federal tax credit with the E-Tron. Deliveries of the E-Tron will begin this May.