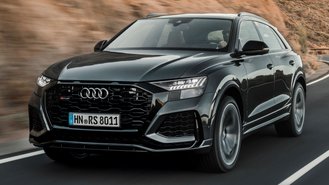 Audi's biggest and most powerful SUV is getting a hefty price increase before most dealers have even had a chance to get one in stock. According to an order guide and confirmation from an Audi spokesperson yesterday, prices for the 2021 RS Q8 will start at $115,495 including destination, $1,500 more than before.
However, rather than a routine price hike that we sometimes see after about a year has passed, the move comes roughly three months after Audi unveiled pricing for the 2020 RS Q8. Although the spokesperson declined to confirm if buyers will get any new features, our analysis found no major changes in equipment.
When it was first introduced, the model had an MSRP of $113,995 and represented a $45,000 premium over the standard Q8. It also offered an over-$97,000 advantage compared to its corporate sibling, the 2020 Lamborghini Urus. Unfortunately, the odds of finding a 2020 RS Q8 in stock are close to impossible.
National inventory listings show just about a dozen SUVs still available at dealers with prices ranging from $129,840 to $138,885. For the least-expensive listing, that's over $15,000 more than the model's base price as a result of at least 7 packages involving options like 23-inch wheels and the $4,500 Carbon Optic Package.
At this point, dealers are already taking orders for the latest version. If you're looking to somehow get a deal on a 2020 RS Q8, you may be out of luck. Although it qualifies for a $1,000 loyalty discount like the regular Q8, financing rates as low as 1.99% APR remain off the table even with the 4th of July around the corner.
Not to be confused with another performance model called the SQ8 offering just 500 hp and 568 lb-ft of torque, the RS variant offers a sizeable boost in output to 591 hp with 590 lb-ft. Audi says the RS can sprint to 0-60 mph in as little as 3.7s, with a top speed of up to 190 mph when equipped with ceramic brakes.