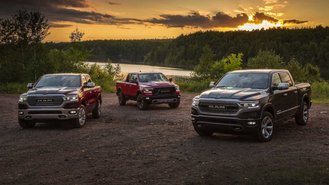 With the coronavirus causing automakers to shut down their facilities, forcing governors to place shelter-in-place orders, and requiring dealers to shift to online sales and touchless delivery methods, there was little doubt that sales would nosedive. Automotive News put together a report of sales figures from the majority of automakers from March, and they're down by quite a large margin.
For a period spanning from January to March 2020 compared to the same three months from last year, nearly every automaker saw sales go down. BMW, Honda, Acura, Subaru, Nissan, and Infiniti saw the largest drops. Out of that group, Subaru saw its sales drop the least amount, 16.7%. Nissan saw the largest drop at 30% during the same timeframe.
American brands didn't fare well, either. Fiat Chrysler Automobiles saw its sales decrease by 10.4%, with Fiat leading the way with a 49.1% drop. Ford's sales fell by 12.3%. General Motors fared a little better than the other two, only dropping by 7.1%
Other notable automakers that didn't have a great first three months of the year compared to last year include Mercedes-Benz (-15.5%), Toyota (-8.8%), Volkswagen (-13.9%), and Volvo (-11.7%). Companies like Hyundai-Kia did relatively well compared to others with a 5.4% drop, as did Mazda with a 4.5% decrease.
Auto News claims that a few brands even came out with modest increases. Ram was up 2.5%, Lincoln saw sales increase by 2.3%, and Kia grew by 1%. So far, these are the only three automakers that came out with gains.
We're still waiting to see official figures from a few automakers, but we expect to see similar things from those that haven't made their figures public yet. All in all, the first three months of 2020 have not been kind to automakers and the coronavirus is mainly to blame.
With cases of the coronavirus continuing to grow at an alarming rate and the number of Americans seeking unemployment growing, we expect this trend to continue into April. Automakers are trying their best to court consumers. Multiple ones have introduced 0% financing with others offering deferred payments for up to six months. Dealers have also shifted to offering touchless deliveries and moving their sales online. But it's too soon to tell if either of these two things will help. Based on the way the coronavirus is moving and the number of unemployed Americans, we're inclined to say it won't be enough.
Beyond offering great deals on cars, a few automakers have started to help out by producing much-needed ventilators, respirators, and face masks for individuals infected with the coronavirus and emergency workers. Just a few automakers that are working on these components include Ford, General Motors, Toyota, Tesla, and FCA.
So far, drops are nowhere close to where they were for automakers during the 2008 recession. But if things continue the way they are, numbers that mirror the ones we saw during the recession are possible.