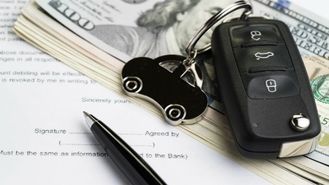 Point a finger at all of the new technology or advancements in safety, but car prices are higher than ever. That's not surprising. What is surprising is how high auto loan rates are. According to a report by Edmunds, new vehicle APRs hit 6.4% last month. The outlet claims that the figure is the highest it's been in 10 years.
Consumers heading to a dealership to purchase a new vehicle were probably already expecting to see a high price tag, but with an APR of 6.4%, buyers should be prepared to shell out more money every month, too. Edmunds claims that the high APRs will result in higher car payments and could even price shoppers out of a new vehicle. If there's a silver lining, it's that APRs shouldn't climb any higher before the year ends.
Insanely high auto loan rates aren't the only thing Edmunds found in its report. In the first quarter of 2019, leasing accounted for 32.4% of sales. That figure is the highest it's ever been. The reason why more consumers are being pushed toward leasing is because of the high price associated with new vehicles.
But consumers are seeing higher lease prices, too. Compared to three years ago, Edmunds states that consumers that lease a vehicle see, on average, that prices have risen by $1,600. With roughly 4.3 million leased vehicles expected to be returned this year, the outlet believes that the leasing cycle will continue.
Overall, sales of cars were down in Q1 of 2019. Through the first quarter of this year, automotive sales are down by 2.5% compared to last year to a total of 1,615,704 units. Still, the outlet believes that the industry is on stride to end with 16.9 million sales in 2019, which would be slightly less than 17.3 million new vehicles sold last year.