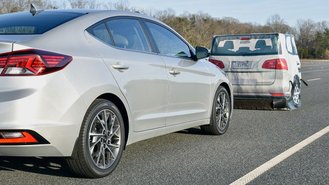 Back in 2015, 20 automakers came together to voluntarily introduce automatic emergency braking (AEB) as a standard safety feature on vehicles before 2022. According to the latest report by the Insurance Institute for Highway Safety (IIHS), four automakers have already met the goal, years before the deadline. Those brands include Audi, Volvo, Mercedes-Benz, and Tesla.
For these four automakers, the vehicles they produced between September 1, 2018 and August 31, 2019 for the U.S. market were all equipped with AEB as standard. Seven other manufacturers, including Toyota, BMW, Volkswagen, Honda, Mazda, Subaru, and Nissan, equipped eight out of 10 new vehicles with AEB as standard in 2019.
In an earlier report, the IIHS stated that domestic car brands were falling behind the competition. In its latest report, the institute claimed that Ford was one of the brands to make a drastic improvement. Not too long ago, just 6% of Ford's vehicles came with AEB. Now, the automaker has bumped that figure up to 65%.
Other automakers, though, are still loitering behind. Fiat Chrysler Automobiles, Jaguar Land Rover, General Motors, and Mitsubishi all equipped less than one in three of their vehicles with AEB. Apparently, the progress these automakers have made is so unimpressive that the IIHS believes that mandatory standards may need to be implemented if something doesn't change.
"If these automakers continue to lag behind, it will signal the need for mandatory standards to ensure that every new car buyer is able to get this life-saving technology," said David Friedman, vice president of advocacy at Consumer Reports.
Beyond not having vehicles that are as safe as others, automakers that fall behind by not having AEB on their vehicles could see a loss in sales. Safety features are quickly becoming must-haves on cars, with more consumers choosing to get vehicles with all of the latest equipment.
By reaching this goal, automakers will be putting safer vehicles onto the road. The IIHS believes that 42,000 automobile crashes and 20,000 injuries will be prevented by 2025 by having AEB as standard on vehicles. Research conducted by the IIHS claims that both AEB and forward-collision warning reduce rear-end collisions by half.
While cars with AEB are safer than vehicles that don't have the feature, they're also more expensive. AEB is usually bundled into a suite of features that raises the starting price of vehicles. With more vehicles coming with AEB as standard, consumers can expect vehicle prices to remain high and increase for automakers that don't have the feature yet.
Overall, automakers are making good progress when it comes to equipping new vehicles with AEB. The IIHS claims that during the timeframe of September 1, 2018 and August 31, 2019, 9 million more cars, or 30% more vehicles, were equipped with AEB than the previous year.