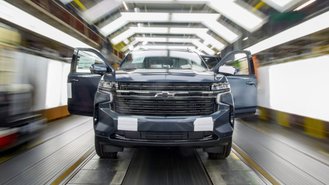 Governors are beginning to lift stay-at-home orders and plans are being made for things to get back to normal in the United States. For General Motors, Fiat Chrysler Automobiles, and Ford, that means restarting factories. According to the Wall Street Journal, the three American brands are looking to resume some production on May 18.
The outlet, citing unnamed sources familiar with the plan, claimed that executives from the respective automakers settled on the tentative date after speaking with Michigan Governor Gretchen Whitmer and UAW leaders. Just last week, Automotive News reported that the head of the UAW claimed that reopening automotive facilities in nearly May would be "too risky" because it would put workers at too much of a risk. But, from the sound of the report, the union and the automakers are working together to introduce safety protocols that would reduce the risk of workers getting the coronavirus.
The UAW and the Big Three came together in the middle of March to form the COVID-19/Coronavirus Task Force. The task force came together when states first started issuing stay-at-home orders and was founded to "implement enhanced protections for manufacturing and warehouse employees at all three companies." GM chairman and CEO Mary Barra, FCA CEO Michael Manley, Ford president and CEO Jim Hackett, Ford executive chairman Bill Ford, and UAW President Rory Gamble are all members of the task force.
In an earlier report this April by Reuters, automakers are set to adopt various safety methods to ensure workers are safe. GM will reportedly introduce temperature screens at entrance locations to make sure workers with fevers are kept out of shared workplaces. Other brands could take things further by implementing daily health questionnaires, redesigning assembly lines to keep workers three to six feet apart from one another, and by having masks and gloves readily on hand. None of these have been officially implemented, but are things that automakers are all looking into doing.
When Auto News reached out to the three automakers, they all claimed that an official restart date hasn't been announced yet. So, there's a chance that things could be pushed back to a later date.
Despite the warning from the head of the UAW and scientific data from the Centers of Disease Prevention and Control (CDC) that claims we're not at the peak of infection rates yet, automakers are yearning to open facilities. Automakers have been hammered by the coronavirus, and they're looking to get production going to put the pandemic in the past. With great deals on cars and car sales dealerships now considered "essential", they want to get new vehicles into consumers' hands.
Ford originally closed its facilities in the U.S. on March 19 with the intent of opening them on March 30. Later on, Ford announced that it had pushed back its restart date to April 6. GM closed its factories in a cadence starting on March 18. It never had an official restart date. FCA also closed its factories on March 18 with original plans to restart them on April 14, which was pushed back to May 4.