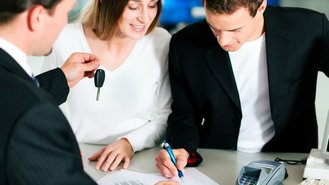 The resurrection that the automotive industry underwent in the past few years is unbelievable. Just a decade ago, the industry was hanging by a thread, and some of the world's largest automakers folded. Now here we are looking at the final sales numbers for 2015, and they set a new record for units delivered in a year.
The previous record was set in 2000, just before the economic collapse, and the record-setting mark was 17,402,486 units. After an increase of nearly nine percent in December, 2015's total sales just barely beat out 2000 at 17,470,659 units delivered. While the 68,173-unit victory (0.39 percent) is about as narrow a margin as you can get, it is a new record nonetheless.
According to Automotive News, this record-setting sales year was due to many factors, like pent-up demand and more available credit, but the increase in new leases also played a big factor. According to Edmunds.com, 29 percent of all car sales in 2015 were leases, setting yet another record. To put that into perspective, only 16.6 percent of auto sales were leases in 2005.
So, why are leases so popular now? One thing that Edmunds.com attributes it to is the rising price of cars. While we agree with that to a point, we also think that the increase in aggressive lease offers is also contributing to this. With all of the aggressive lease deals out there now, buyers can get into a car they could otherwise not afford using traditional financing.
A great example of this is Mercedes-Benz offering the 2016 C300 on a 36-month lease for just $399 per month after paying $4,553 at signing. It would be a stretch for most buyers to get a $25,000 car for $399 per month on traditional financing, and many buyers would rather have a Mercedes in their garage for a three-year lease than a financed Toyota.
Who knows what we will see in 2016, as unemployment rates continue to fall and credit worthiness is on the rise. Maybe we'll see another record-breaking year.