Automakers are itching to restart their North American factories. By March 19, the majority of Ford's, General Motors', and FCA's facilities were shut down because of the coronavirus. Since then, the restart date for all three has been pushed back. Staying closed, like for any other company, is costing automakers tons of money per day. But the figure of how much they're losing is staggering.
According to a report by the Detroit Free Press, GM and Ford are losing approximately $130 million to $150 million each day as their factories stay closed. The losses go beyond not building cars, but continuing to have to pay for plant security, utility expenses, labor costs, cleaning personnel, and more during the coronavirus shutdown that are adding to how much the brands go into the red. It also doesn't help that new-car sales are down.
To weather the rough storm, all three American automakers have secured as much money as possible. The outlet claims that FCA has secured roughly $3.9 billion in additional credit, Ford will reportedly borrow $15.4 billion against two credit lines, and GM took out $16 billion from its revolving credit facilities. Cost-cutting measures, like executive pay cuts, pay deferrals for white-collar jobs, and canceling upcoming vehicles (Lincoln with its upcoming electric crossover that was supposed to be built with Rivian) have also been put in place to save money.
Despite the moves to save money, automakers are running out of time. Ford is the first of the three automakers to announce its quarterly earnings report for the first quarter of 2020, and the automaker lost $2 billion. Reports from GM and FCA will arrive at the beginning of May. The outlet notes that this is the first quarterly earning where Ford had a net loss since the financial crisis in 2009.
Safety is a major aspect of why the automakers are taking things slow when it comes to restarting its facilities. The three automakers are working on ways to ensure workers remain safe when they return back to work. Possible safety measures include more space between employees on the assembly line, temperature checks when entering buildings, and having a large supply of masks and gloves on hand.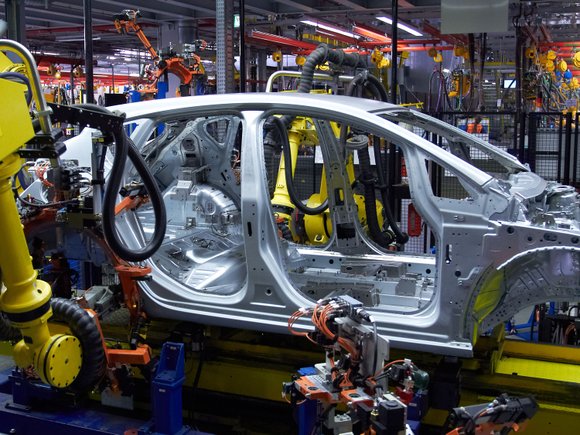 A recent report by the Wall Street Journal claims that all three American automakers are working with Michigan Governor Gretchen Whitmer and UAW leaders to restart some production by May 18. But safety measures aren't the only things that are stopping manufacturers from hitting that new timeline, supply chains from other countries are a key part of when these brands will be able to start again.
As the Detroit Free Press claims, Mexico is a major location for automakers, as a lot of them have automotive facilities in the country that operate as vital parts suppliers. For brands, they'll need to have a cohesive plan to get all factories up and running, especially those outside of America if it wants to build cars.
"We need all the parts coming all at once," said Kristin Dziczek, vice president of Industry, Labor & Economics at the Center for Automotive Researching. "About 40% of imported auto parts come from Mexico."
Dziczek claims that the virus hasn't taken off in Mexico yet, but the disease has wreaked "havoc and lots of places where we make cars in Mexico have those situations." Depending on how Mexico handles the spread of the virus, it could further delay the opening of facilities in the U.S.
Automakers are in a rush to get facilities open again so that they can start pumping cars out at high rates. But that brings up another issue: who will buy the cars? NPR reports that a total of 30 million Americans have filed for unemployment. So, even if automakers were to open factories tomorrow, which certainly won't happen, it's not like consumers will be rushing to dealerships to buy cars.
"Why would you rush to crank out more inventory," asked Erik Gordon, a professor at the University of Michigan Ross School of Business. "What they need is dealerships open and selling cars and that won't happen quickly."
Earlier this month, the Department of Homeland Security's Cybersecurity and Infrastructure Security Agency named sales and leasing departments at dealerships as an essential service. With the new guidelines, dealerships are capable of selling vehicles to consumers during the pandemic, depending on state and local officials. Unfortunately, things aren't clear for consumers, as some states opened sales departments, while others remained closed. Then, there's issue of simply not having any money coming in, as unemployment is at an insanely high number. Opening dealerships was one hurdle, but the other obstacle of unemployment won't be so easy to mend.
So, even if automakers work everything out and start cranking vehicles out, there's no promise that things will return to normal immediately.